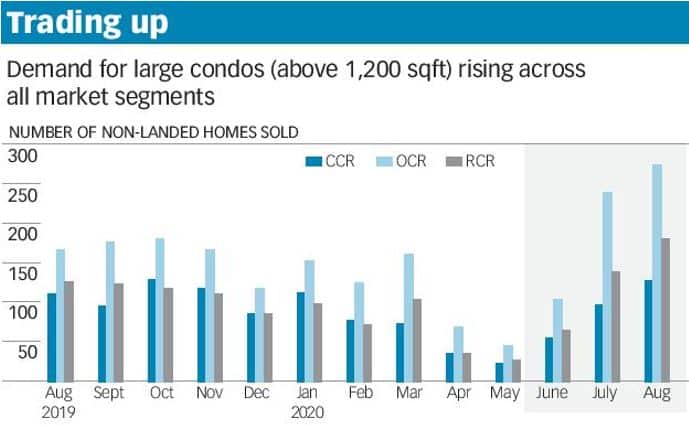 However, on the other spectrum, smaller units (one and two-bedder), which are generally more palatable for investors with smaller budgets, are snapped up ferociously at new launches:
Midtown Modern has 90% of one and two-bedder at Midtown Modern sold during launch.
Studio, one-bedroom and two-bedroom units account for over 80 per cent of the units at Irwell Hill Residences.
The Reef at King's Dock sold all its one-bedder on its first day.
80% of units sold at Normanton Park during the launch were one and two-bedroom units.
With that, the million-dollar question will be: How does size affect capital appreciation?
For this research, we will evaluate the in terms of Price Per Square Foot (PSF) and break down the analysis as such:
How does size in square footage affect capital appreciation?
How does the number of bedrooms within the properties affect capital appreciation?
Also, we are only looking at resale transactions because this is the market homeowners (non-developers) like you and I are concerned about when we have to realise our profits and losses of our investment properties.
Quick Recap of Singapore Home Price Index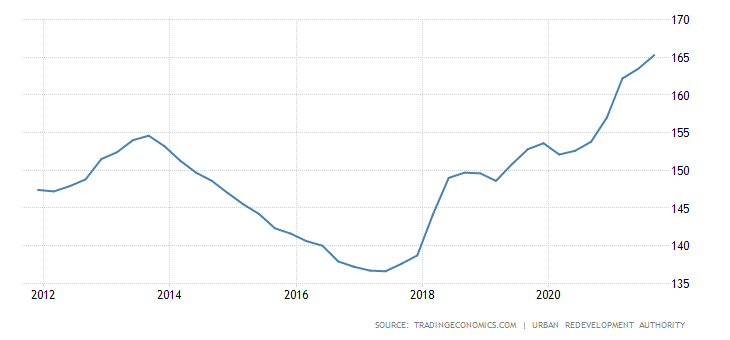 Before we head into the actual topic of this article, here's a quick recap of the Singapore housing price index. Singapore housing prices dived towards the end of 2013 after the government introduced a slew of cooling measures. The trend reversed in early 2018 as inventories of new houses ran low and developers bid up land prices to replenish their land bank. The price increment pace was dampened again towards 2018 with higher ABSD and lower LTV ratio. Surprisingly, with the onslaught of Covid-19, the price bucks common expectation that price will head south due to Covid-19; instead, it carries on its growth through 2020 to today.
How does size in square footage affect capital appreciation?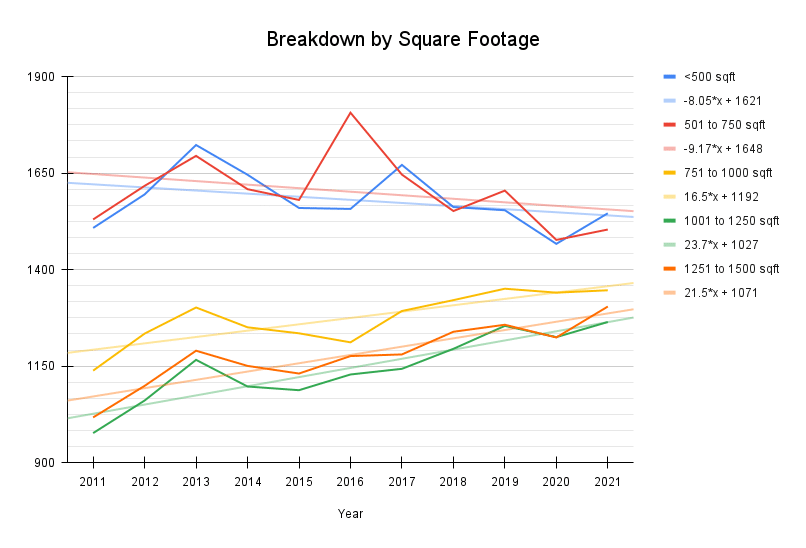 In general, smaller units, less than 750 sqft, experienced a steady decline in their resale PSF since 2013.
Surprisingly, properties between 501 and 750 sqft saw their value depreciating more than properties less than 500 sqft.
In contrast, larger units above 750 sqft have experienced a steady appreciation in their value.
For the larger units, properties between 1001 and 1250 sqft performed the best, followed by properties between 1251 and 1500 sqft and then between 751 and 1000 sqft.
Resiliency
Larger units are also more resilient against downward pressures.
Between 2013 and 2018, when the property market was softening due to cooling measures, larger units recovered to their previous high in 2018. In contrast, smaller units (< 750 sqft) are continuing with their downtrend.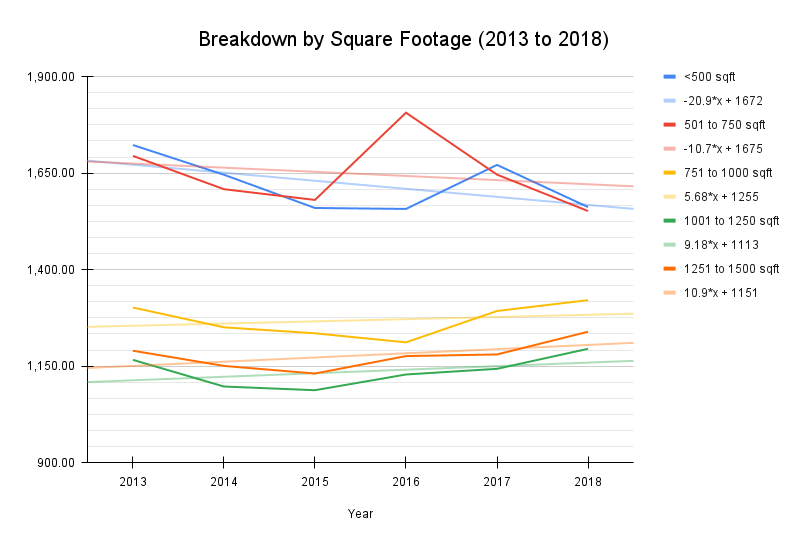 Fortunately, recently, with the rapidly declining inventories, smaller units (<750 sqft) got their breather, and prices improved since 2020.
1, 2, 3 & 4-Bedroom – How did they perform?
In line with conventional wisdom, capital appreciation is better for properties with more bedrooms.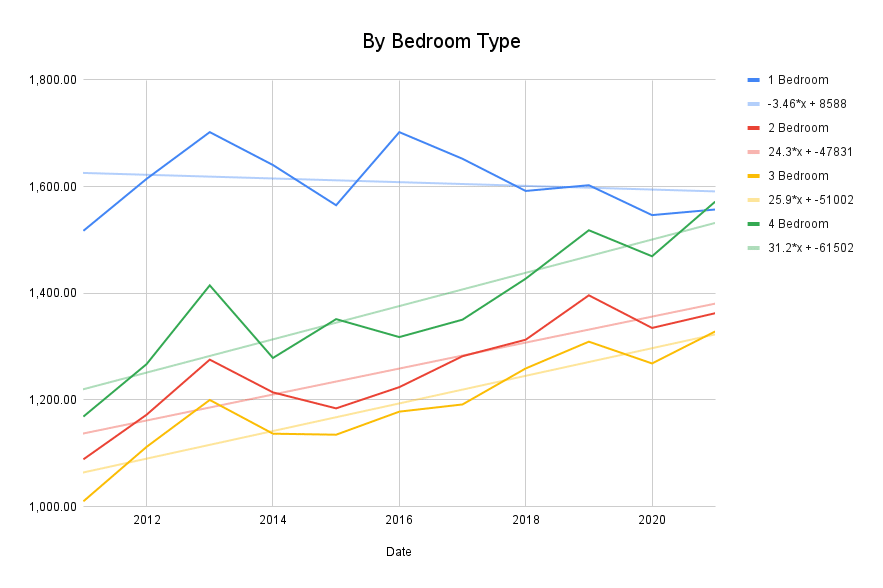 Likewise, between 2013 and 2018, 2, 3 and 4-bedroom recovered from their high in 2013 by 2018. Sadly, 1-Bedroom didn't manage to follow the pack and is struggling to return to its previous high.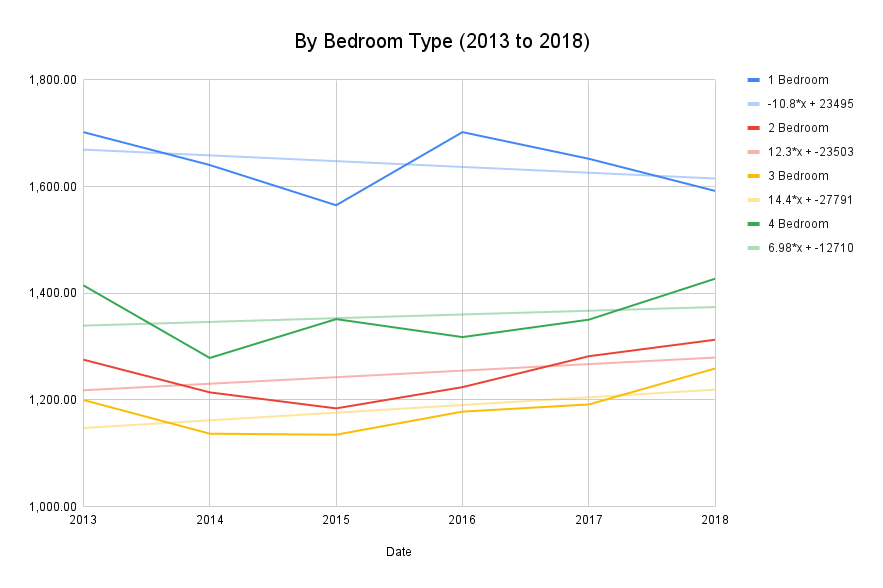 In the recent uptrend, 1-bedroom did appreciate, but it is lacklustre compared to the appreciation of the 2, 3 and 4-bedroom.
Takeaway
The above study has its limitation as it takes into account the general market as a whole. It helps to know that, in general, the larger the units, the higher the chances of enjoying capital appreciation. For those looking to buy larger units for stay, you should be in good shape in the years to come.
For those with a tighter budget or buying smaller units for investment, take extra prudence in assessing the property's value before committing, in particular, the 1-bedder.  A healthy rental income may well justify the investment.
Don't be despair if you can only afford a 1-bedder. It's not all dark and gloomy for 1-bedder. The smallest home in Singapore, which is 258 sqft, not larger than two and a half parking lots, has made profits for all its owners to date.
Sold On
Address
Area
(sqft)
Sale Price
(S$ psf)
Bought On
Purchase Price
(S$ psf)
Profit
(S$)
Days
(days)
Annualised
(%)
14 Mar 18
70 Lim Ah Woo Road #03-11
258
1,723
28 Jan 11
1,637
22,000
2,602
0.7
1 Oct 13
70 Lim Ah Woo Road #02-11
258
1,966
9 Nov 09
1,452
133,000
1,422
8.1
3 Apr 13
70 Lim Ah Woo Road #05-11
258
1,916
9 Nov 09
1,514
104,000
1,241
7.2
15 Jun 12
70 Lim Ah Woo Road #04-11
258
1,916
11 Nov 09
1,494
109,000
947
10.1
28 Jan 11
70 Lim Ah Woo Road #03-11
258
1,637
9 Nov 09
1,475
42,000
445
9
To many of us, buying a property is probably one of the biggest financial commitments in our life. So do get yourself a trusted real estate advisor to evaluate your purchase; the cost of making the wrong purchase is likely more than the agent's fees. The buyer's agent's job is more than just looking through listings and arranging viewings. Anyway, anyone can do that. Their importance is assessing the purchase for you, making sure you made the best real estate decision with their wealth of experience, data and insights. So, get yourself a trusted advisor before embarking on your real estate journey. Good luck!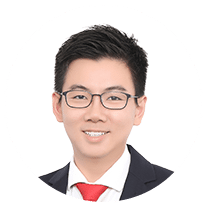 With his love for numbers and data, Edwin has provided valuable insights to his clients and readers to empower them to make better-informed real estate decisions. 
Enjoy what you have been reading? Join our mailing list to get valuable insights delivered to your inbox.