If you're considering a transition to a condominium, the upcoming months offer a favourable chance, as indicated by official government statistics.
Information from the Urban Redevelopment Authority (URA) for the second quarter of 2023 indicates that those upgrading from HDB flats and investors interested in condominiums within the Outside Central Region (OCR) should pay attention to the most successful segments.
We'll examine the recent URA discoveries, analyze the factors contributing to the accomplishments of affordable condos, and highlight significant instances of new condo releases and resales that have drawn the interest of prospective purchasers.
Private Property Index (PPI) and Resale Price Index (RPI).
The data from URA for the second quarter of 2023 unveils interesting observations.
The Private Property Index (PPI) experienced a slight decrease of 0.2%, reaching a value of 194.4 points.
This signifies the first decrease since the initial quarter of 2020 for the index, which monitors price changes in the private property market.
Simultaneously, the Resale Price Index (RPI) for Housing & Development Board (HDB) flats exhibited a 1.5% increase in the second quarter of 2023 compared to the preceding quarter, achieving a value of 176.2 points.
This pattern suggests a narrowing price difference between resale HDB flats and private properties, which is advantageous for individuals looking to upgrade from HDB flats.
Mass market condominiums: The leading performers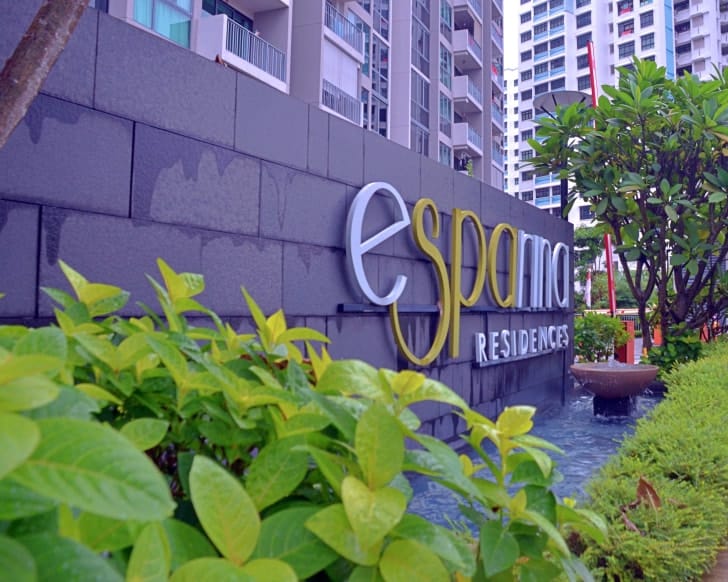 Espana Residences. Photo: Khalil Adis.
What is causing the increased focus on mass market condominiums within the OCR?
These condominiums have demonstrated themselves as the most successful category, exceeding the performance of their counterparts in both the Rest of Central Region (RCR) and Core Central Region (CCR).
Strategically positioned within the Outside Central Region (OCR), mass market condos offer a combination of affordability and attractiveness to local buyers.
Significantly, their Private Property Index (PPI) has surged to 225.0 points, surpassing the figures observed in both the RCR and CCR.
This upward movement in the index indicates a strong demand for these condos, primarily propelled by their advantageous locations and reasonable pricing.
Key drivers of mass market condo success
The appeal of mass-market condos can be ascribed to a variety of reasons.
These condominiums, located in suburban areas, have attracted the attention of local purchasers, including individuals entering the market for the first time and those upgrading from HDB flats.
Unlike upscale condos, which draw interest from speculators and international buyers, mass-market condos are not influenced by the increased Additional Buyer's Stamp Duty (ABSD) introduced in April 2023.
This difference has played a role in maintaining a steady demand among Singaporean buyers, making these condos less susceptible to the impact of measures aimed at cooling the market.
Highlighting top condo launches in Q3 2023
According to data from Propnex, these are the three most popular mass-market condo launches ranked by volume in the third quarter of 2023:
1. Lentor Hill Residences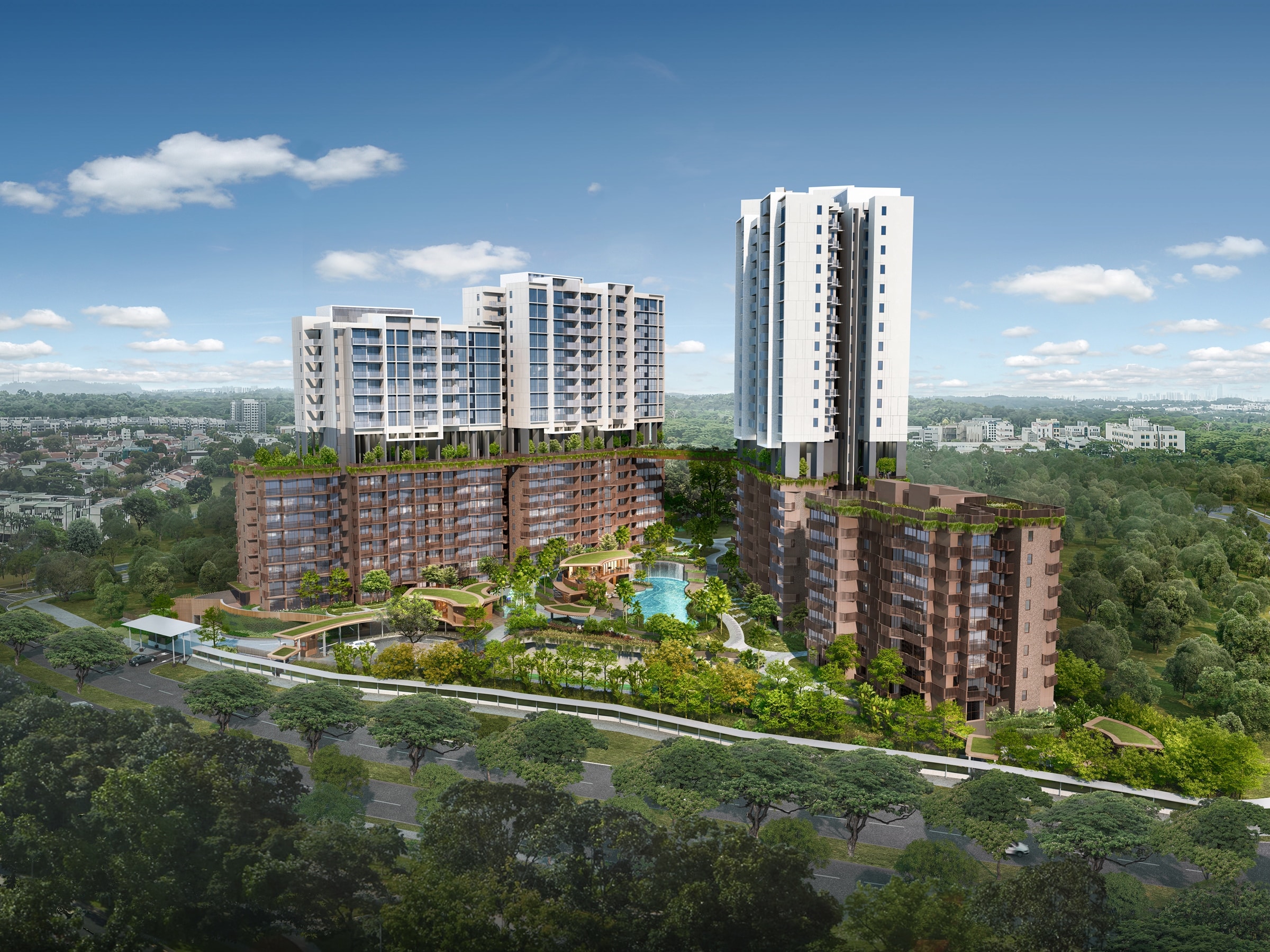 Lentor Hill Residence located in District 28. Photo: Hong Leong Holdings, GuocoLand and TID.
Situated in District 20 (Mandai / Upper Thomson), Lentor Hill Residences, with a 99-year leasehold, offers 598 units featuring one- to four-bedroom configurations.
Beginning at $2,028 per square foot for a one-bedroom unit, a notable 88.5% of purchasers are residents of Singapore.
Conveniently located amenities include the Lentor Hill MRT station, Anderson Primary School, CHIJ St. Nicholas Girls' School, Mayflower Primary School, Mayflower Secondary School, Anderson Serangoon Junior College, Nanyang Polytechnic, AMK Hub, and Thomson Plaza.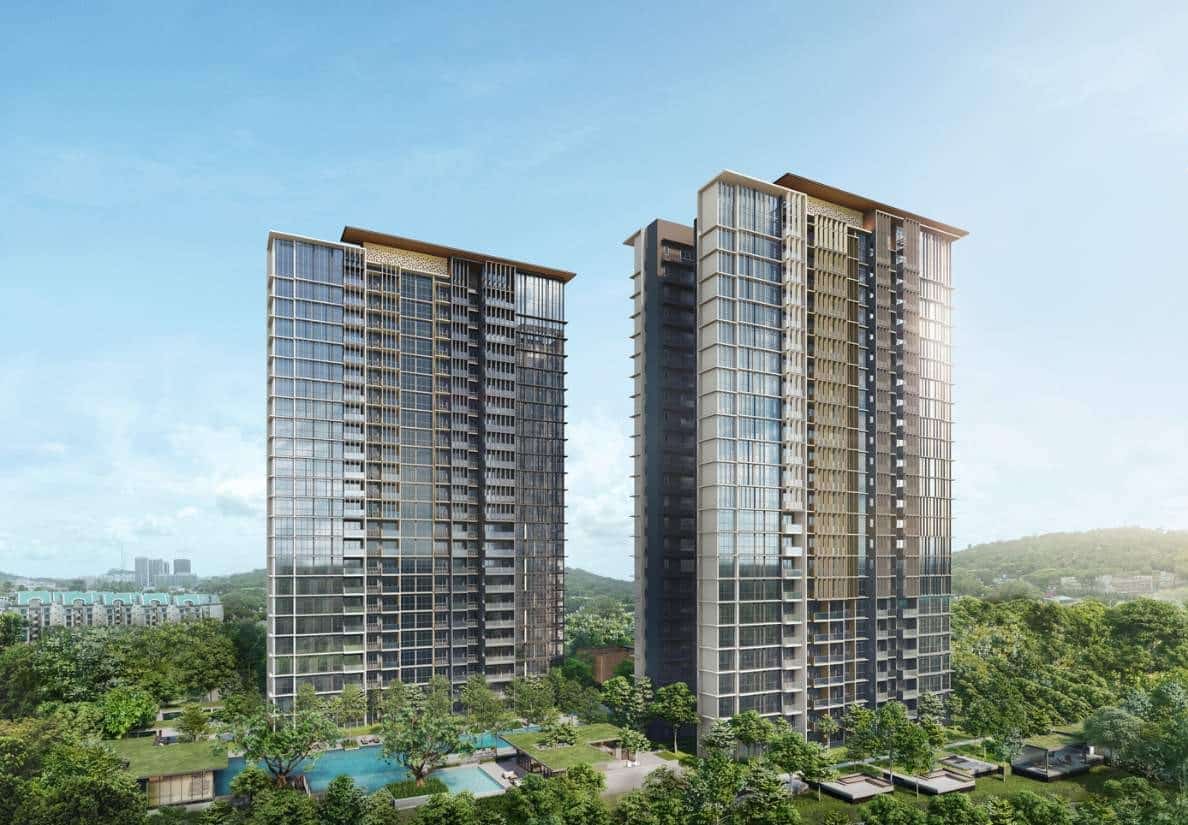 Crafted by City Developments Limited (CDL), The Myst comprises 408 units spread across two 24-storey blocks.
With an average price of $2,070 per square foot, The Myst presents a range of unit options, including one-bedroom study to five-bedroom layouts, spanning from approximately 517 square feet to 2,034 square feet.
The development's attractiveness is further amplified by its proximity to MRT stations and esteemed educational institutions.
Among the nearby MRT stations, Cashew MRT station and the upcoming Cross Island Line offer convenient access.
Within a 1km radius of the development, several reputable schools, such as CHIJ Our Lady Queen of Peace, Bukit Panjang Primary School, and Zhenghua Primary School, are situated.
In addition to the excellent schools, nearby amenities encompass the Bukit Panjang Integrated Transport Hub, Hillion Mall, Bukit Panjang Plaza, and Junction 10.
Nature enthusiasts will be delighted to discover that The Myst is situated right at the entrance of The Rail Corridor and Bukit Timah Nature Reserve.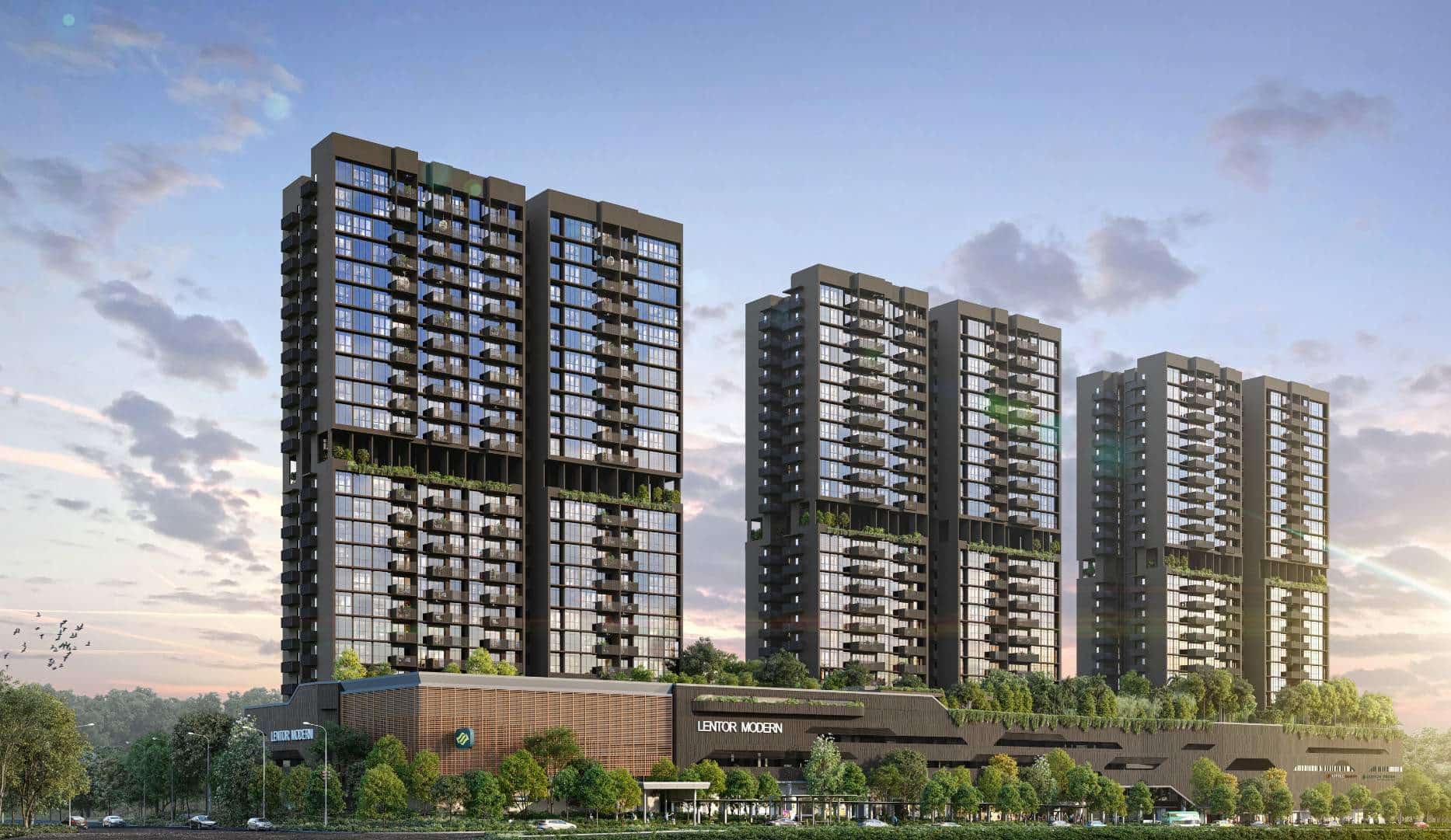 Lentor Modern. Photo: GLL D Pte Ltd.
Located in District 23 (Upper Thomson and Springleaf), Lentor Modern represents the pioneering integrated mixed-use development in the Lentor area, seamlessly connected to Lentor MRT station.
Consisting of three 25-storey towers, this development, under a 99-year leasehold tenure, provides 605 residential units. The units span from 1- to 4-bedroom apartments, with comprehensive amenities and sky terraces within each tower.
With an average pricing of $2,087 per square foot, the bulk (91.1%) of purchasers are Singaporean residents.
Noteworthy mass-market resale condos in Q3 2023
Data from
Propnex
showed that these are the five most popular mass-market condo launches ranked by volume in the third quarter of 2023: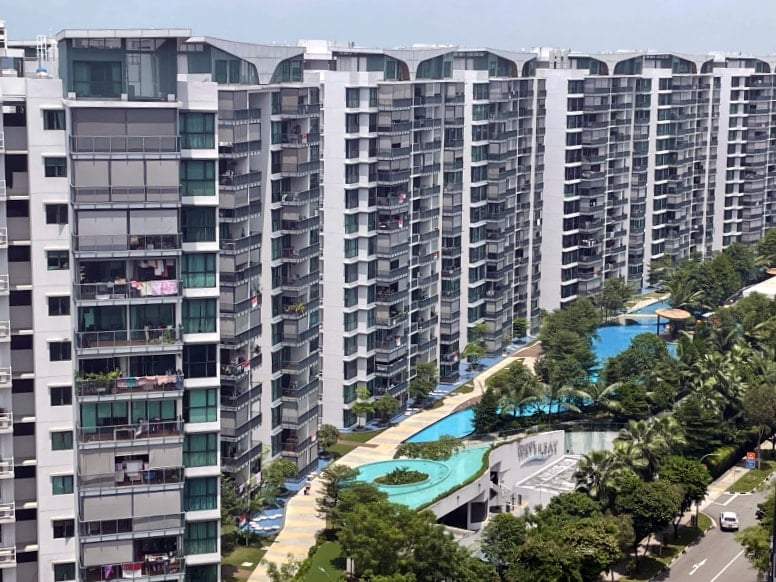 Kingsford Waterbay in District 19. Photo: Khalil Adis.
Located in District 19 (Serangoon), Kingsford Waterbay showcases an array of residences, including 1 to 5-bedroom penthouses and cluster homes.
During the third quarter of 2023, there were 11 transactions at an average rate of $1,399 per square foot. The development's closeness to well-regarded schools significantly adds to its appeal.
Notable educational institutions in proximity encompass CHIJ Our Lady of the Nativity, Holy Innocents' Primary School, Montfort Junior School, Holy Innocents' High School, Montfort Secondary School, and CHIJ St. Joseph's Convent.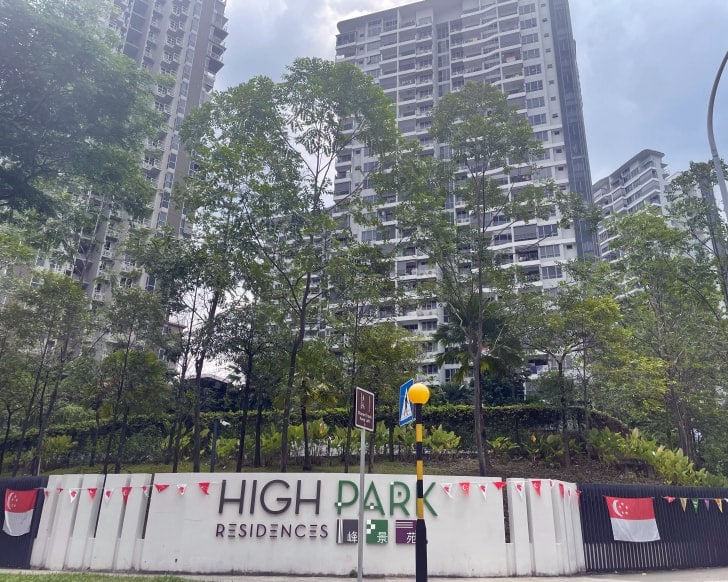 High Park Residences located in Sengkang. Photo: Khalil Adis.
Situated in District 28 (Sengkang), High Park Residences offers a wide selection of 1,390 units, ranging from 1- to 5-bedroom layouts. It has seen eight transactions with a median price of $1,523 per square foot.
Conveniently located adjacent to Thanggam LRT and just four stops away from Sengkang MRT stations, High Park Residences enjoys proximity to Seletar Aerospace Park, dining establishments along Jalan Kayu, Seletar Mall, Compass Point Shopping Centre, and Greenwich V.
As a 99-year leasehold development, it has gained popularity among Singaporean buyers, comprising 80.7% of its purchaser demographic.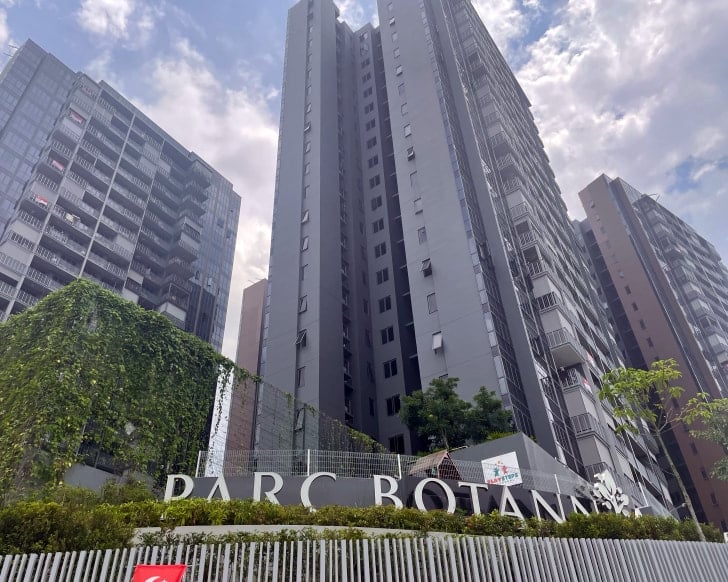 Parc Botania located next to High Park Residences. Photo: Khalil Adis.
In District 28 (Sengkang), Parc Botannia has achieved the third position, with a total of seven transactions at a median price of $1,603 per square foot.
Its strategic location and verdant surroundings make it particularly appealing to buyers who seek a tranquil and harmonious living environment.
The presence of numerous well-regarded local and international schools in close proximity to Parc Botannia further enhances its attractiveness. Notable institutions include Lycee Francais De Singapour, Gems World Academy (Singapore), Hillside World Academy, Fernvale Primary School, Anchor Green Primary School, and Nan Chiau Primary School.
These various factors combined could potentially explain why this condominium holds the distinction of being the third most favored mass market development.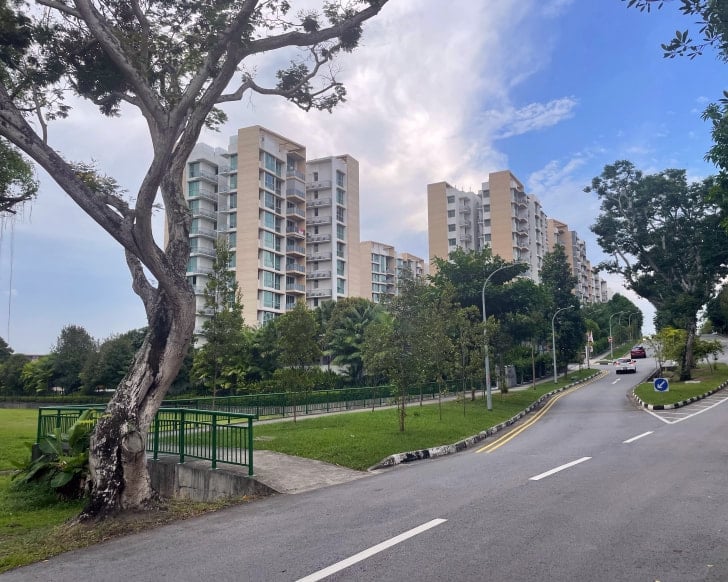 The Glades located in District 16 Photo: Khalil Adis.
Located in District 16 (Bedok), The Glades recorded seven transactions at a median price of $1,646 per sq ft.
This 99-year leasehold development appeals to both Singaporeans and Permanent Residents.
​
Located next to Tanah Merah MRT station and one stop away from the Expo, The Glades comprises 726 units ranging from 1 to 5-bedroom penthouses.
The Glades is especially popular among Singaporeans and Permanent Residents who make up 69.3 per cent and 22 per cent of its buyers respectively.
Nearby amenities include Bedok Mall, Bedok Point, Eastpoint Mall and Changi City Point.
Popular schools located nearby include Temasek Primary School, Temasek Secondary School, Anglican High School, Temasek Junior College and Temasek Polytechnic.
Treasure at Tampines in District 18. Photo: Khalil Adis.
In District 18 (Tampines), Treasure at Tampines has secured its position as the fifth most successful mass market condominium development, with six units sold at a median price of $1,605 per square foot.
Comprising 29 twelve-storey residential blocks, Treasure at Tampines is characterized by its high-density layout.
The available units range from 1 to 5 bedrooms, spanning 463 to 1,345 square feet, and come complete with comprehensive condominium amenities.
Strategically situated, Treasure at Tampines benefits from its proximity to various esteemed educational institutions such as Temasek Polytechnic, Singapore University of Technology, Angsana Primary School, and Tampines Junior College.
Convenience in terms of shopping options is also noteworthy, with nearby malls including Tampines Mall, Century Square, Tampines One, and Eastpoint Mall.
For individuals looking to upgrade from HDB flats or investors considering condominium options, mass-market condos located in the Outside Central Region (OCR) present an appealing opportunity.
The data provided by URA for the second quarter of 2023 emphasizes the durability and expansion of these condos, positioning them favourably compared to upscale condos.
Given the array of developments, including options like Lentor Hill Residences and The Myst, the current moment presents an optimal opportunity to assess these prospects and leverage their potential advantages.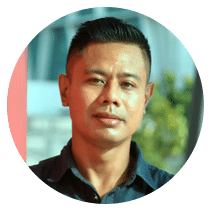 Khalil is the former editor of Property Report and has written for PropertyGuru, iProperty.com, Yahoo! Singapore/Malaysia, The Malay Mail, Berita Harian, Real Estate Malaysia, Property Buyer and The Star, among others.
​Renowned for his independent views and insights on the property market, Khalil is a highly sought-after speaker in Malaysia and Singapore. He has given talks at various expos and at property launches. He was also on the judging panel of the South East Asia Property Awards (Malaysia). He has written two bestselling books - Get It Right Iskandar and Property Buying for Gen Y.