Presenting
The Arden
, a recently unveiled condominium situated in District 23. With the potential to be among the most reasonably priced new releases in 2023, this article delves into an analysis of whether The Arden constitutes a worthwhile investment for either homebuyers or real estate investors.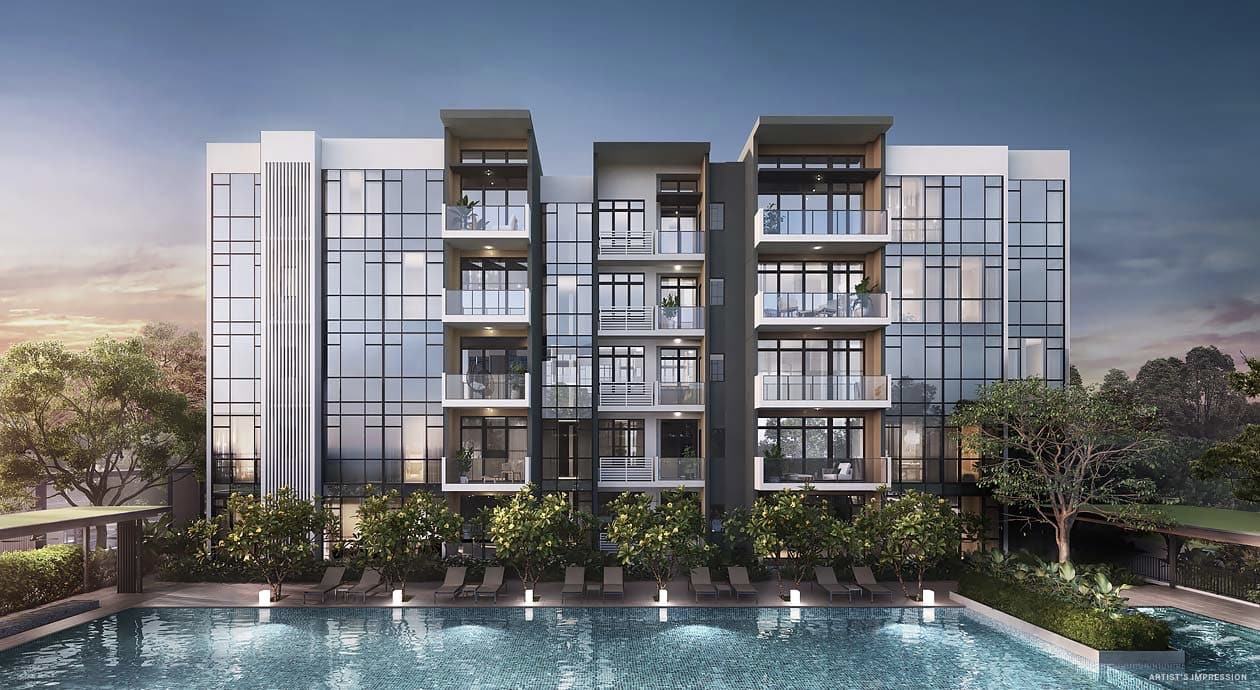 District 23's Growth Trajectory
Situated in District 23, the location of The Arden, this locale has demonstrated impressive performance outpacing the overall real estate market over both five and 10-year horizons. From 2019 to 2023, the average price per square foot (PSF) of its resale transactions in District 23 surged by 36.2%, a substantial increase compared to the general market's rise of 16.4%. Likewise, during the 10 years between 2014 and 2023, District 23 experienced a remarkable upswing of 49%, surpassing the general market's growth of 30.7%. This trend persisted during the exuberant surge between 2020 and 2023, where District 23 again stood out with a gain of 34.8% as opposed to Singapore's overall increase of 22.4%. These dynamics create an advantageous backdrop for The Arden, as they offer a glimpse into the potential performance of the development in the years ahead.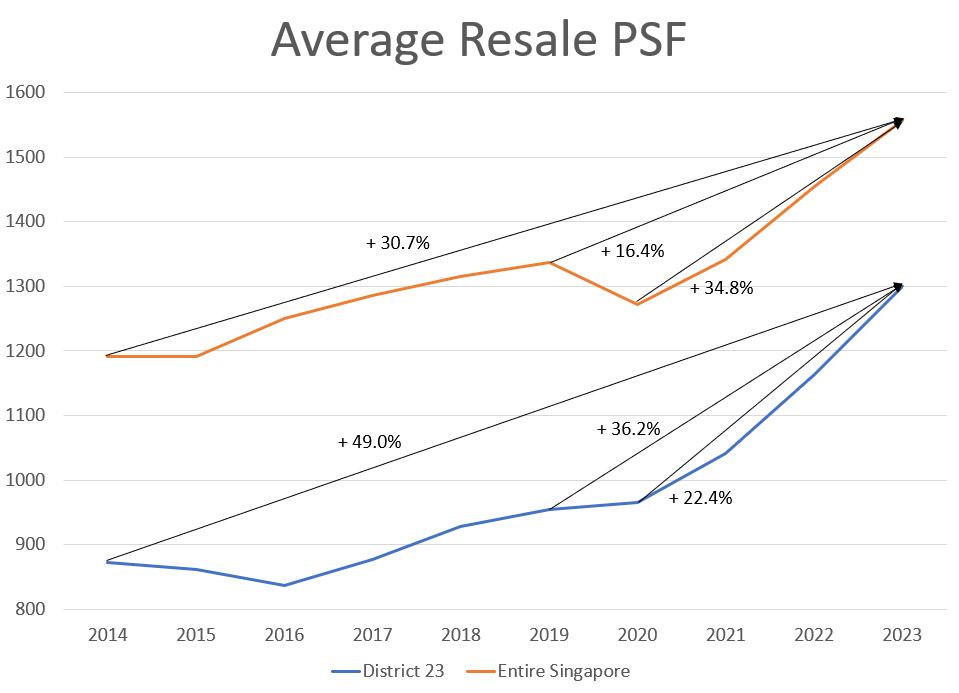 Furthermore, taking a closer look at the price differential between District 23 and the entirety of Singapore, the current gap hovers at approximately 18%. Notably, this figure is lower than the average and median price gap differences of 30.1% and 31.5%, respectively. It's intriguing to observe that this gap has been gradually narrowing over time, suggesting the possibility of its continued reduction. This could be attributed to favourable external conditions contributing to District 23's growing appeal, thereby enhancing the district's land value. It's advisable to delve into the factors underpinning District 23's increasing attractiveness before committing to property investment. Nonetheless, the positive trajectory witnessed thus far positions The Arden as a compelling investment or personal residency candidate.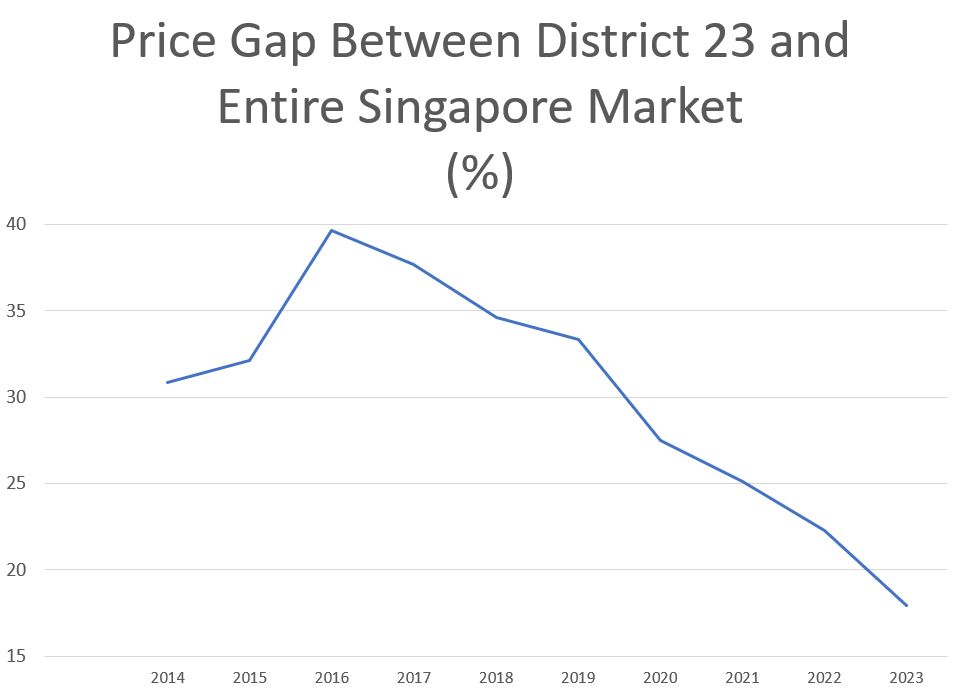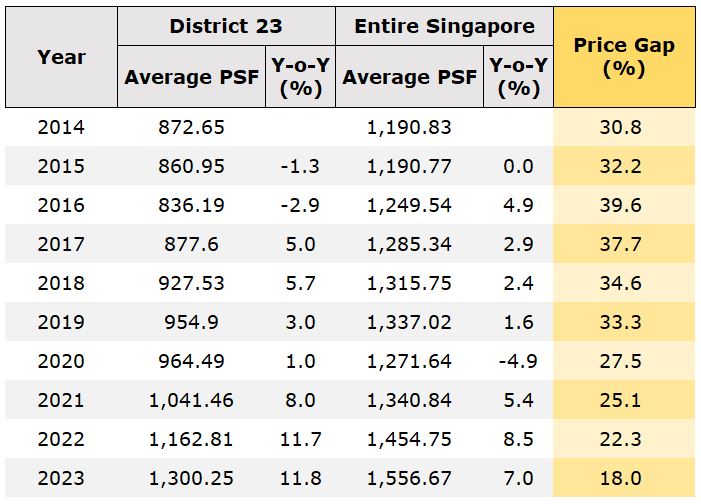 Decoding Peer Performance: Analyzing The Arden's Neighbors
At first glance, it might be disheartening to realize that only 60% of The Arden's peer resale transactions generate profits, with a rather dismaying median profit of S$43,609 and a median annualized return of 0.7%. However, upon closer examination of the details, it becomes evident that the resale transactions of The Tennery and Hillsta are predominantly composed of 1 and 2-bedroom units, which are the ones exhibiting poorer performance. Focusing on the 3-bedroom category within Hillsta, a significant 90% of these resale transactions proved profitable, boasting a median gain of approximately S$123,743 and a median annualized return of 1.2%. While this might not sound overly exciting to investors, individuals looking to purchase for personal use within this area should recognize that opting for a 3-bedroom unit here seems like a sensible decision.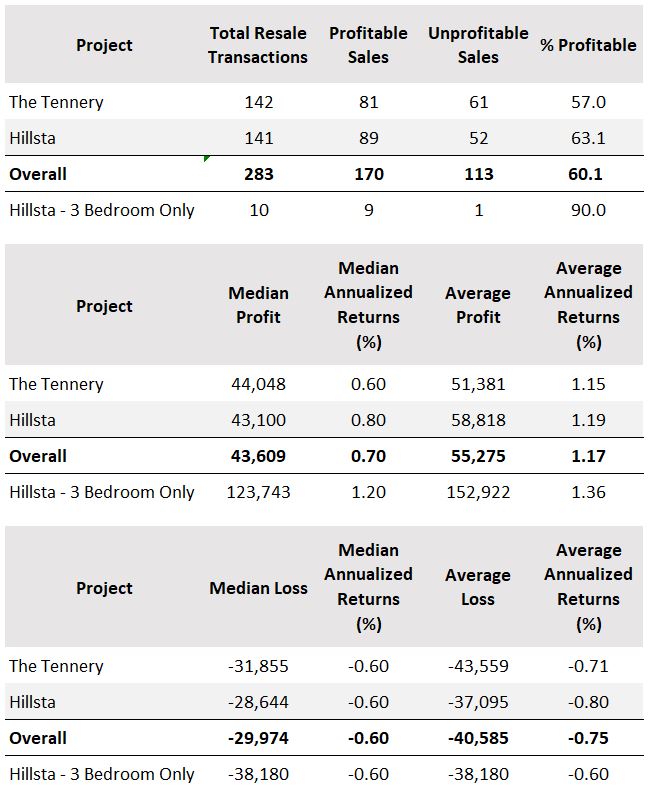 Charting the Landscape: Normalized Price Analysis
When we recalibrate its peers' prices to reflect a full 99-year lease balance, The Arden's pricing is approximately 15 to 16% higher than that of older projects like The Tennery and Hillsta. This price differential can be rationalized by considering The Arden's newer and enhanced amenities and its unit composition, which leans more towards accommodating families—contrasting with The Tennery and Hillsta, which focus on investment-oriented development. Furthermore, compared to Phoenix Residences, The Arden's slight 1% price difference positions it as an obvious choice, presenting a more enticing proposition due to its extended lease term and presumably more contemporary facilities.

Note
The concept of Normalized Average PSF involves adjusting the lease duration back to 99 years, thereby allowing a fair comparison among projects as if they were all launched in the same year. Nevertheless, this approach doesn't account for the element of novelty in newer developments. Newer projects often come equipped with updated facilities and advanced technology, which could impact the per-square-foot (PSF) price. Thus, it's essential to recognize that these modern amenities might contribute to a higher PSF in more recent developments. Beyond this, conventional factors like location, construction type, unit mix and other characteristics can also exert influence on the pricing of a development.
In the case of The Arden, please be aware that we are referencing the indicative starting PSF instead of the average PSF for our analysis.
A Personalized Path Forward: Making an Informed Decision
Based on the preliminary assessment, it is clear that if one is looking for investment, especially with a budget for 1 and 2 bedrooms, one should seriously consider if The Arden would be a good choice, given that there are probably better options.
However, suppose one is looking to purchase it for own stay, especially getting a 3 and 4 bedroom. In that case, it is worthwhile to put in the extra effort to conduct further analysis on quantum price, resale velocity, specific unit of interest, broader market etc., to assess if The Arden 3 and 4 bedroom is a viable option.
Lastly, feel free to contact me for a personalized assessment to decide if The Arden suits you and any other options that could align with your real estate needs. Otherwise, feel free to explore The Arden by clicking on the button below.
Curious to Explore More? Click Below to Discover Other Exciting Projects.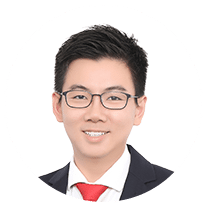 With his love for numbers and data, Edwin has provided valuable insights to his clients and readers to empower them to make better-informed real estate decisions.