Amidst a property climate where the Executive Condo Land bid at Plantation Close is breaking records, observing the distinct trajectory in the private condominium market is intriguing. The recent government land sale (GLS) tenders that closed on September 12 for sites at Lentor Central and Champions Way offer insights into developers' confidence and strategies for the future.
Champions Way in Woodlands: A Hub of Developer Interest
Woodlands' Champions Way witnessed a flurry of activity, with six developers placing bids. City Developments Ltd (CDL) emerged victorious, tabling an offer of S$294.9 million or S$904 per square foot per plot ratio (psf ppr). CDL's bid surpassed the next contender by approximately 8.3%, reflecting a land rate 45% higher than Thakral Corp's proposal.
This site, primed to host 350 private homes, represents a significant turning point for Woodlands. The region has remained dormant without any private residential launches, excluding executive condominiums, since 2011. CDL group CEO Sherman Kwek emphasized the rarity and potential of this venture, envisioning a "vibrant and sustainable icon" to augment the government's rejuvenation initiatives.
Market pundits, like Leonard Tay from Knight Frank Singapore, predict that this project might redefine price benchmarks in Woodlands. Forecasts place the selling price "just under $2,000 psf", a considerable jump of over 53% compared to Parc Rosewood's median resale price this year.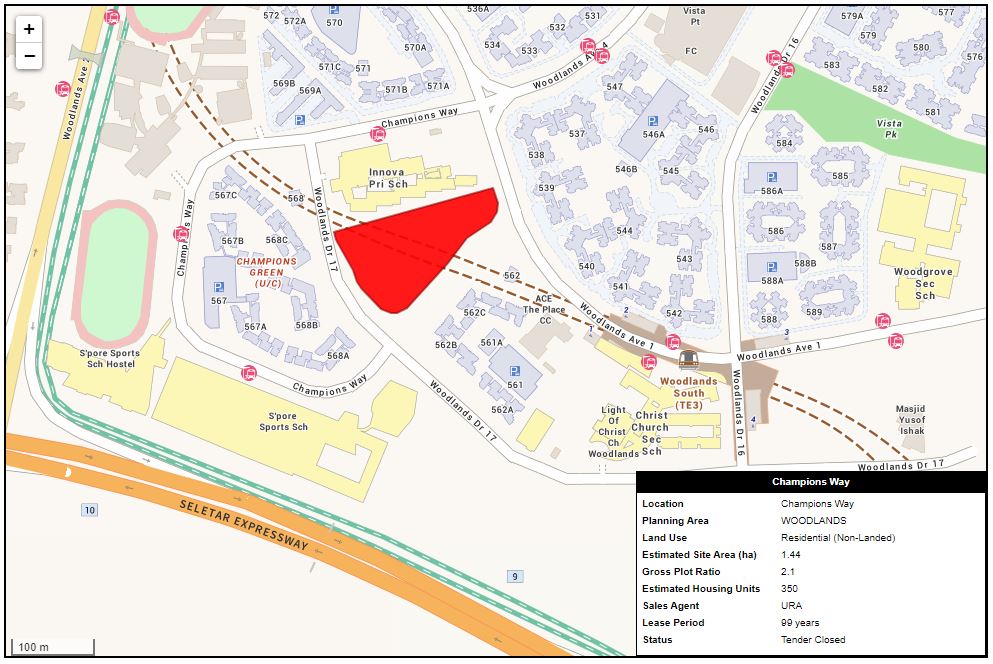 Lentor Central Plot: A Reflection of Developer Caution or Strategic Restraint?
In contrast to the bustle at Champions Way, the Lentor Central plot attracted a mere two bids. The leading offer from a consortium of Hong Leong Holdings, GuocoLand, and CSC Land stood at S$435.2 million or S$982 psf ppr.
GuocoLand's sustained interest in Lentor underscores their belief in the locale's promise. However, their pronounced presence might also deter other developers, wary of the stiff competition that GuocoLand, with its formidable regional foothold, might present.
The divergence in bid counts between the sites encapsulates developers' nuanced market assessments, influenced by locale-specific challenges and opportunities.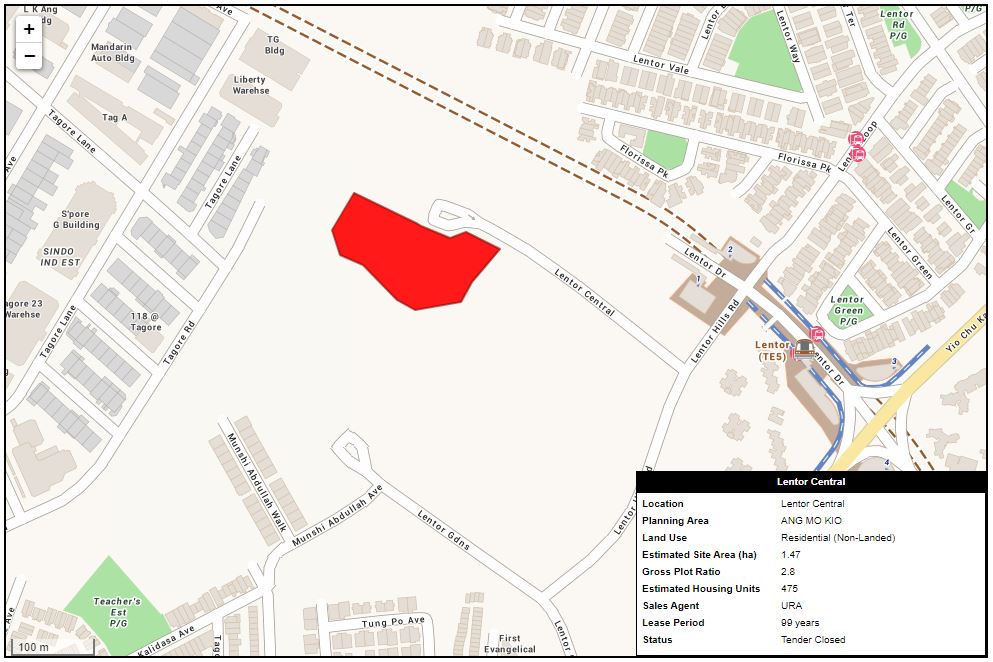 Government Land Sales at Lentor
Hong Leong Holdings, GuocoLand and CSC Land Group
GuocoLand (Singapore) Pte. Ltd. and Intrepid Investments Pte. Ltd.
Lentor Hills Road (Parcel B)
TID Residential Pte Ltd (Joint venture between Hong Leong Group and Mitsui Fudosan)
China Communications Construction Co, Soilbuild Group Holdings and United Engineers, a unit of Yanlord Land
Lentor Hills Road (Parcel A)
Hong Leong Holdings, GuocoLand and TID
GLL D Pte. Ltd. (GuocoLand)
Note to Readers: As we unravel the dynamics of Lentor's condo landscape, ensure you're looped into our findings. To receive tailored insights on Lentor's condominiums once available, please subscribe to our mailing list.
Looking Ahead: Singapore's Private Condominium Market
The distinct responses to the Champions Way and Lentor Central bids illustrate developers' evolving sentiment and strategies in Singapore's private condominium sector. Developers are treading with calculated caution, factoring in market dynamics and the competitive landscape. For instance, GuocoLand's dominance in Lentor may influence the decision-making of other potential bidders.
Given the current trends, we anticipate a period of measured risk-taking in the private condominium market. While the allure of certain regions like Woodlands is evident due to infrastructural developments and governmental rejuvenation plans, areas with established dominant players, such as Lentor, might witness more conservative bids.
Furthermore, as land prices continue to escalate, developers might be propelled to innovate, seeking to offer value-added amenities or unique selling propositions to justify the premium pricing for potential homeowners.
Ultimately, while the road ahead promises challenges, the inherent dynamism and adaptability of Singapore's real estate sector are likely to steer it towards continued growth and innovation. The unfolding chapters of this story will undoubtedly be marked by strategic shifts, offering a blend of opportunities and complexities for all stakeholders involved.