In a testament to market confidence, Hoi Hup Realty and Sunway Developments have secured the winning bid for an executive condominium (EC) project located at Plantation Close within the thriving Tengah housing estate. This exciting development, unveiled by the Housing and Development Board on September 11th, marks the second of its kind in Tengah and is poised to introduce an impressive 495 units to the market.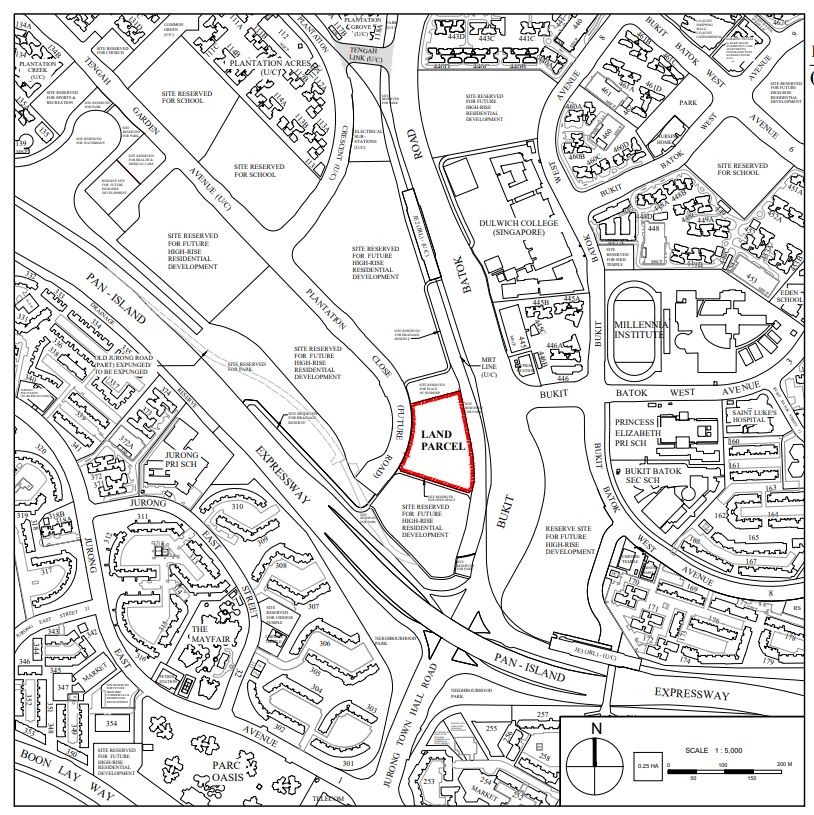 Amidst a highly competitive bidding process, featuring nine enthusiastic contenders, the joint venture between Hoi Hup Realty and Sunway Developments emerged victoriously with a successful bid of $348.5 million. This translates to a remarkable land rate of $703 per square foot per plot ratio (psf ppr), exceeding the previous high of $662 psf ppr set by the EC plot at Bukit Batok West Avenue 8 in March 2022, which was awarded to Qingjian Realty and Santarli Construction.
However, it's worth noting that due to the modified concept and price revenue tender used for the Plantation Close EC plot, there remains uncertainty about whether this bid represents the highest offer submitted by developers.
This $703 psf ppr rate represents a substantial 17% increase compared to the first EC site in Tengah, located along Tengah Garden Walk, awarded to City Developments Limited (CDL) and MCL Land in June 2021 for $400.3 million ($603 psf ppr). The developers of this project, CDL and MCL Land, later unveiled the highly successful Copen Grand in October 2022, which sold out within just one month at an average price of approximately $1,340 psf. Another EC development, Tenet, situated along Tampines Street 62, also experienced significant success, with 93% of its units sold following the second-timers' balloting in January.
Premium over Plantation Close
Tampines St 62 (Parcel A)
Lee Sze Teck, Senior Director of Data Analytics at Huttons Asia, attributes the $703 psf ppr bid to the confidence the winning developer has in the EC market and the potential of Tengah. He also highlights that the recent increase in additional buyer's stamp duty for second property purchases may further boost interest in ECs, as they offer upfront remission.
Moreover, the notable number of bidders in this tender could indicate a strategic move by developers to enter a market perceived as more stable and well-supported, even if it involves narrower profit margins.
Eugene Lim, CEO of ERA Singapore, underscores the appeal of the Plantation Close site to developers due to its proximity to the future Tengah Park MRT Station. This advantageous location will provide residents with convenient access to the Jurong Lake Gardens, Jurong Innovation District, and Nanyang Technological University via the Jurong Regional Line.
According to industry experts, the anticipated pricing for the forthcoming executive condominium development at Plantation Close falls from $1,450 to $1,550 per square foot. Wong Siew Ying from PropNex anticipates that the project's average selling price will likely hover around $1,500 per square foot, which presents an enticing opportunity for developers and prospective homeowners. To determine if this upcoming EC aligns with your budget, you can utilize our partner Realila's property budget calculator.
Suppose you're interested in keeping an eye on the availability of unsold Executive Condos or future Executive Condos like the one at Plantation Close. In that case, you can visit PropertyNet.sg's dedicated page on Executive Condominiums at https://propertynet.sg/list-executive-condominiums-unsold/.