No. We are not talking about Canberra in Australia. We are talking about our very own Canberra in Singapore.
Many know Sembawang, but few have heard of Canberra – an estate within Sembawang with a rich history. Named after the capital of Australia, roads at the former Singapore Naval Base were coined after former British colonies and territories.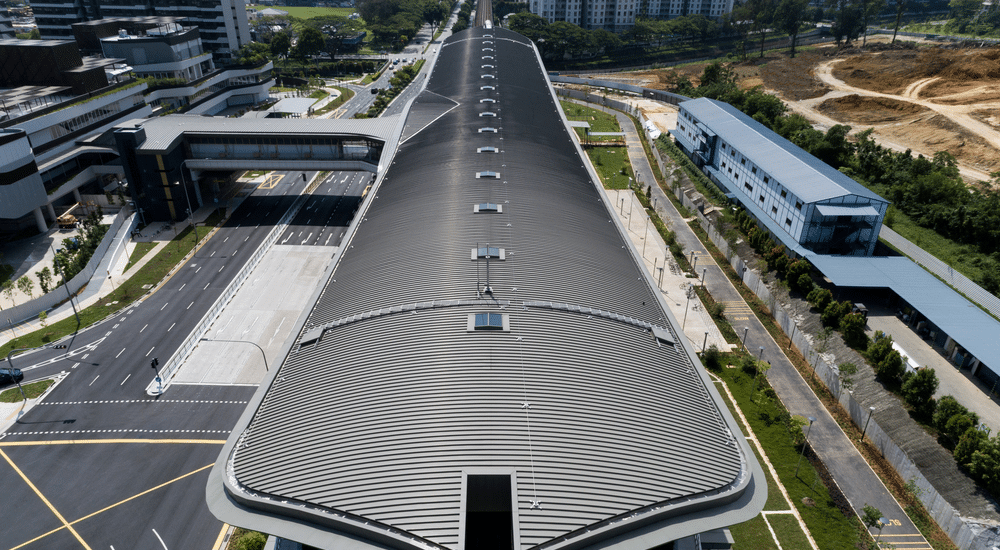 This residential estate in the far north of Singapore is currently undergoing an exciting phase of rapid development, starting with the opening of a new MRT station.
Canberra Connectivity
Canberra MRT station (NS12) is an elevated Mass Rapid Transit (MRT) station on the North-South line, located along Canberra Link at the junction with Canberra Way in Sembawang, Singapore.
It is the second infill station on the MRT network (after Dover MRT station), and the first in Singapore with a platform linked directly to an overhead bridge at the same level.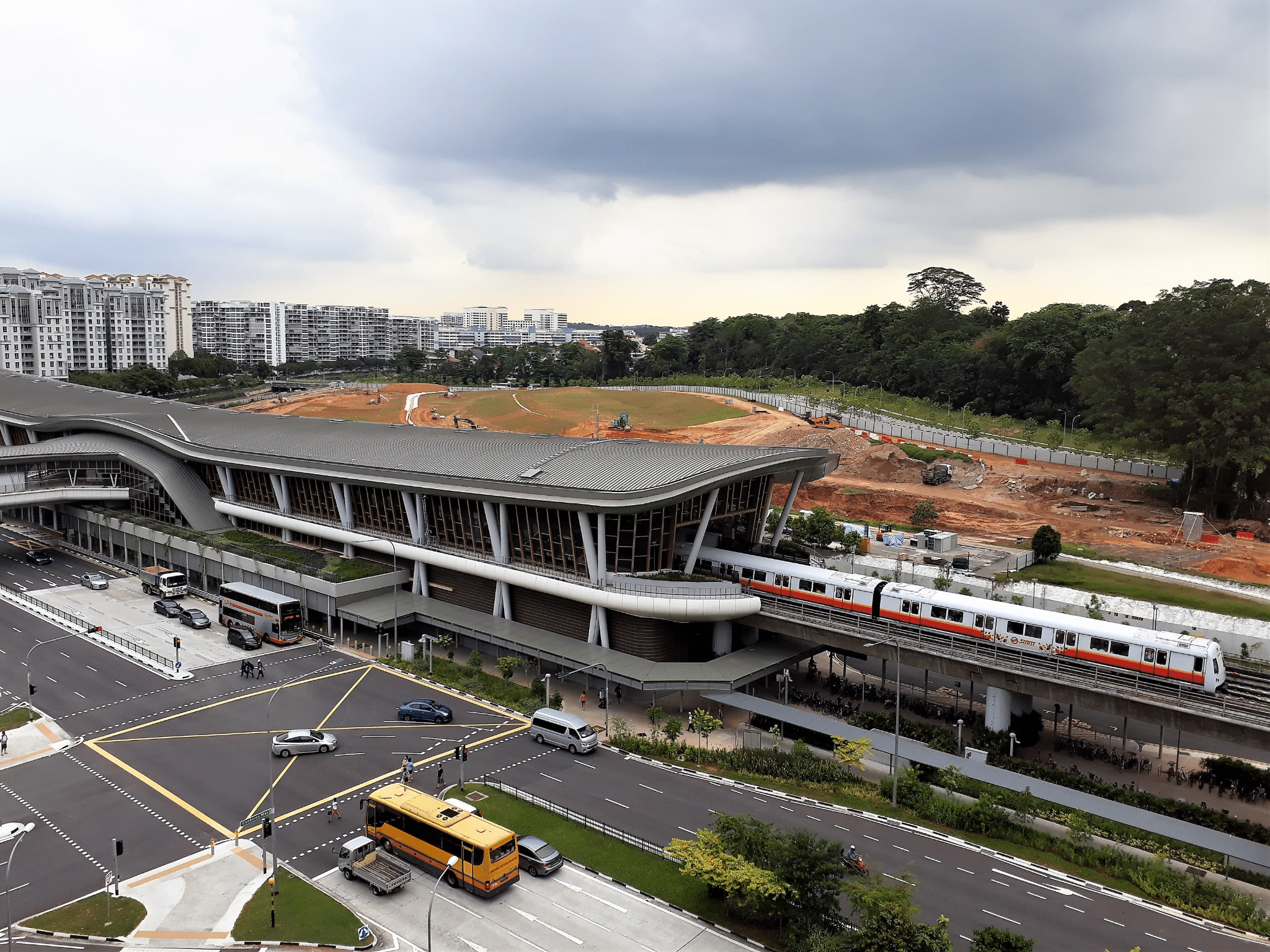 With several green features included in the station during construction, it was also the first MRT station to be awarded Platinum for the Building and Construction Authority's Green Mark for Transit Stations, as a result of the construction team's efforts to integrate landscaping and using eco-friendly materials in the construction of the station.
The Canberra Trail – Attractions
Following are the lesser-known Canberra Trail Attractions that are now more accessible with the new Canberra station.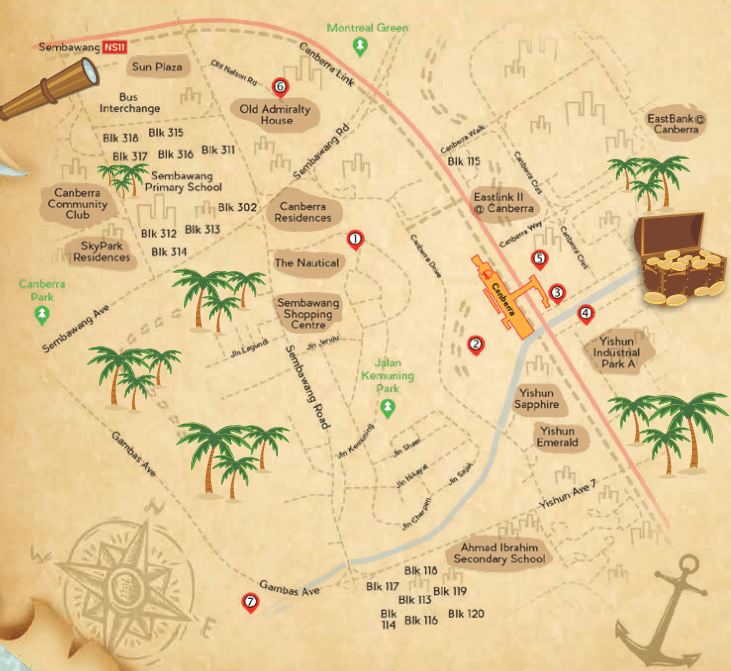 Jln Malu-Malu (Marker 1)
Nestled within the residential estate of Jln Malu-Malu (which means 'Shy' or "Embarrassed" road in Malay), restaurants and shops in the area are rather retro, giving a nostalgic vibe of the 80s.
Durian Trees (Marker 2)
A mini patch of forested land between Canberra Station and Sembawang Drive is home to many wildlife and natural vegetation. But what is most sought after by people – and possibly wild monkeys too – are the durian trees.
Walking And Cycling Network (Marker 3)
You can walk, jog, or cycle along a picturesque canal from Canberra Station to the seaside at Sembawang Park, home to one of Singapore's natural beaches. During the day, white-throated kingfishers can be spotted along with the 4-km park connector.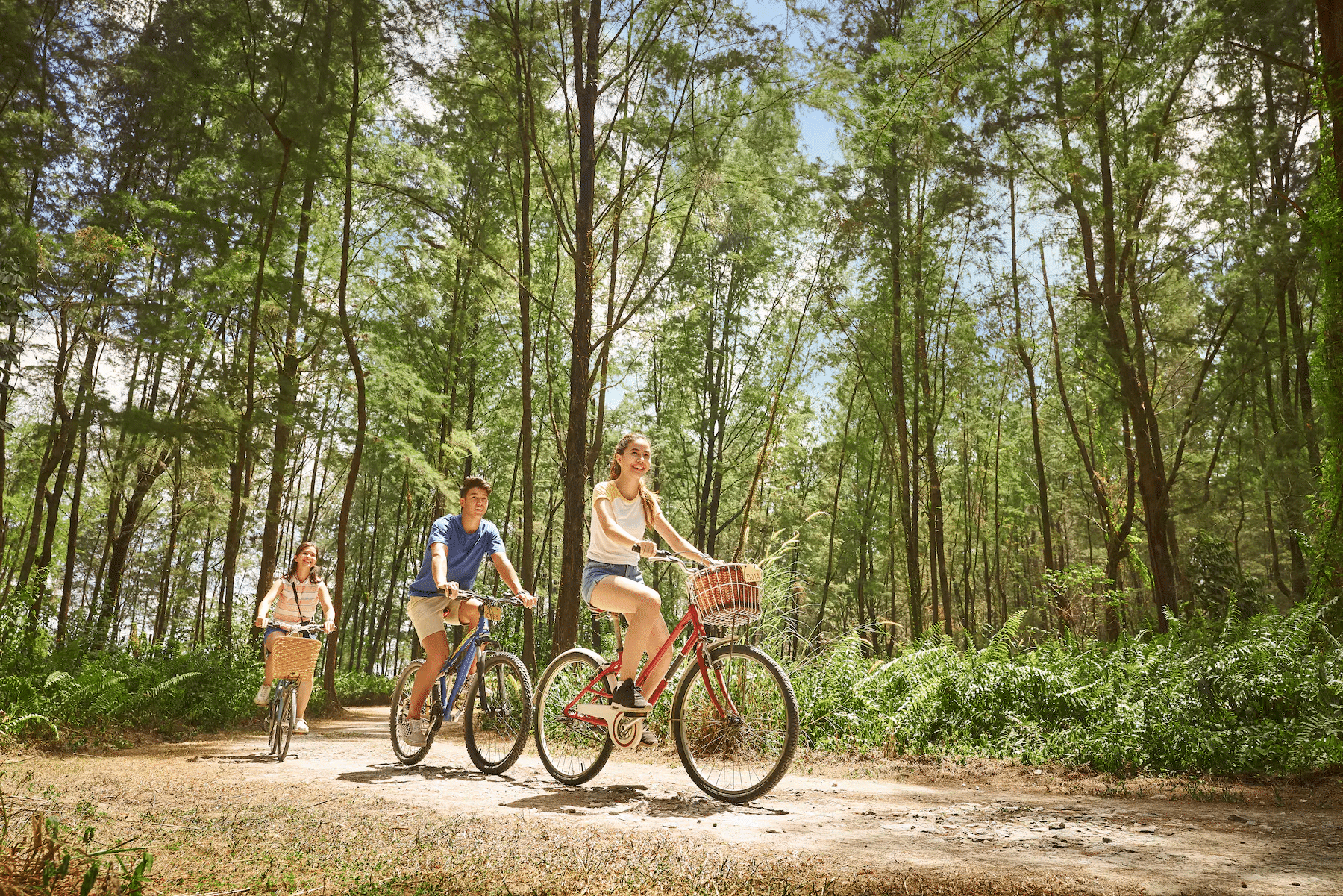 Holy Tree Sri Balasubramaniar Temple (Marker 4)
What started off as a simple makeshift altar under a holy Elantha tree grew into a full-fledged temple built in the mangrove swamplands west of Canberra Road. In 1962, a Hindu naval worker at the then British Royal Navy Dockyard (now Sembawang Naval Base) built an altar at the tree after having a dream of Lord Murugan under an Elantha tree. Word of the altar spread fast, quickly drawing in many devotees to Holy Tree Sri Balasubramaniar Temple.
Canberra Plaza (Marker 5)
Dining, shopping and recreation are just an overhead bridge away from Canberra Station. Canberra Plaza has a nautical theme design, inspired by flowing rivers of the adjacent Sungei Simpang Kiri canal and the area's heritage as a former naval hub.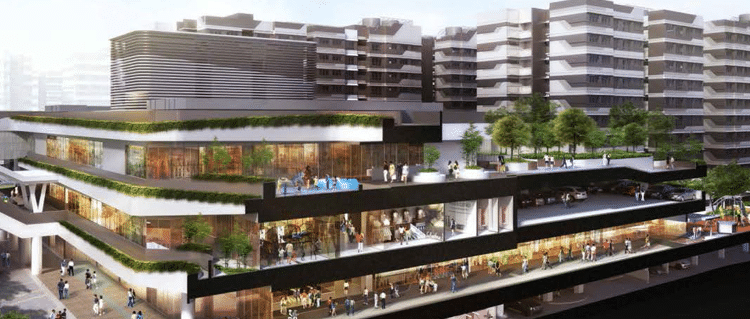 Sembawang Hot Spring (Marker 6)
Singapore may not have volcanoes, but hot water still gushes out from the ground just north of Chong Pang Camp between Yishun and Sembawang. The Sembawang Hot Spring is Singapore's only hot spring. Discovered in the early 1900s, bottled water believed to contain medicinal qualities were previously manufactured at this source. Today, it is open to the public for everyone to enjoy.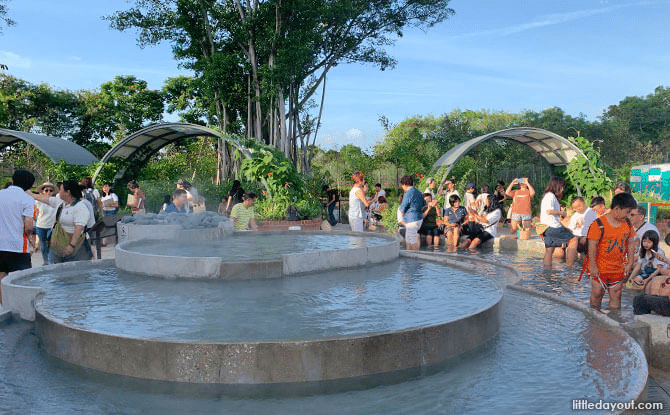 Bukit Canberra (Marker 7)
A 12-hectare site next to Sembawang MRT station will soon become a hub for sports, healthcare, leisure and food.  Residents have access to the largest ActiveSG gym, an indoor sports hall, covered swimming pool, a polyclinic, hawker centre, among others. With Bukit Canberra, an initiative by Sport Singapore (SportSG), residents will no longer need to travel to neighbouring towns for their sporting and leisure fix.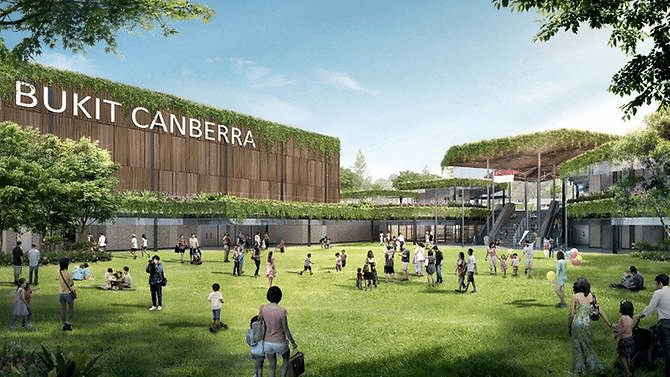 Canberra Growth Opportunities
Once Sembawang Shipyard's operations cease, the site has the potential to be redeveloped into a mixed-use waterfront lifestyle precinct while taking into consideration its rich maritime history. The shipyard's unique coastal profile presents opportunities for new waterfront public spaces. Selected buildings can also be repurposed to introduce suitable uses that will bring new life into the area.
Canberra Hawker Centres
Three new hawker centres will be opened in 2021 and early next year, adding vibrancy to Singapore's hawker culture.
The Bukit Canberra Hawker Centre in Canberra off Sembawang and the Fernvale Hawker Centre and Market in Sengkang are expected to open in the fourth quarter of this year as the construction of both centres were delayed by Covid-19.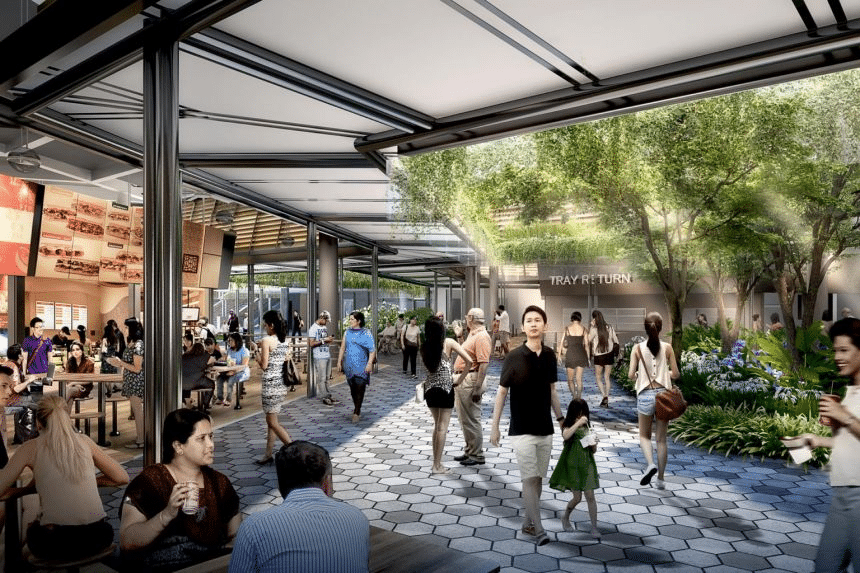 Canberra Demography
According to the Department of Statistics Singapore, Sembawang has one of the youngest populations in Singapore.
Of the 87,000 people who live in Sembawang in 2018, over 54% of the population were aged 39 and below. In Sengkang, over 57% of the population in 2018 were 39 and below.
To serve a young demographic, there are lots of pre-schools and kindergartens around too, and you can expect 300 more childcare centres in Sengkang by the end of 2021.
Schools In Canberra
There are many schools from kindergarten, primary, secondary to colleges that provide all levels of education. Canberra residents have plenty of options when choosing a school for their kids. Ahmad Ibrahim Primary School, Yishun Primary School, Yishun Secondary School, and Sembawang Primary School, and Sembawang Secondary School are among those close by. There are more than 10 primary schools and 5 secondary schools within the vicinity.
Nature's Presence In Canberra
A region dense with vast, unspoilt nature spots be it its recreational parks, jogging locations or chillout zones in general, Sembawang is known in particular for its lush greenery. Breakaway from mobile screens and gaze into some lush greenery instead, said to be able to rest your tired eyes and prevent further eyesight deterioration.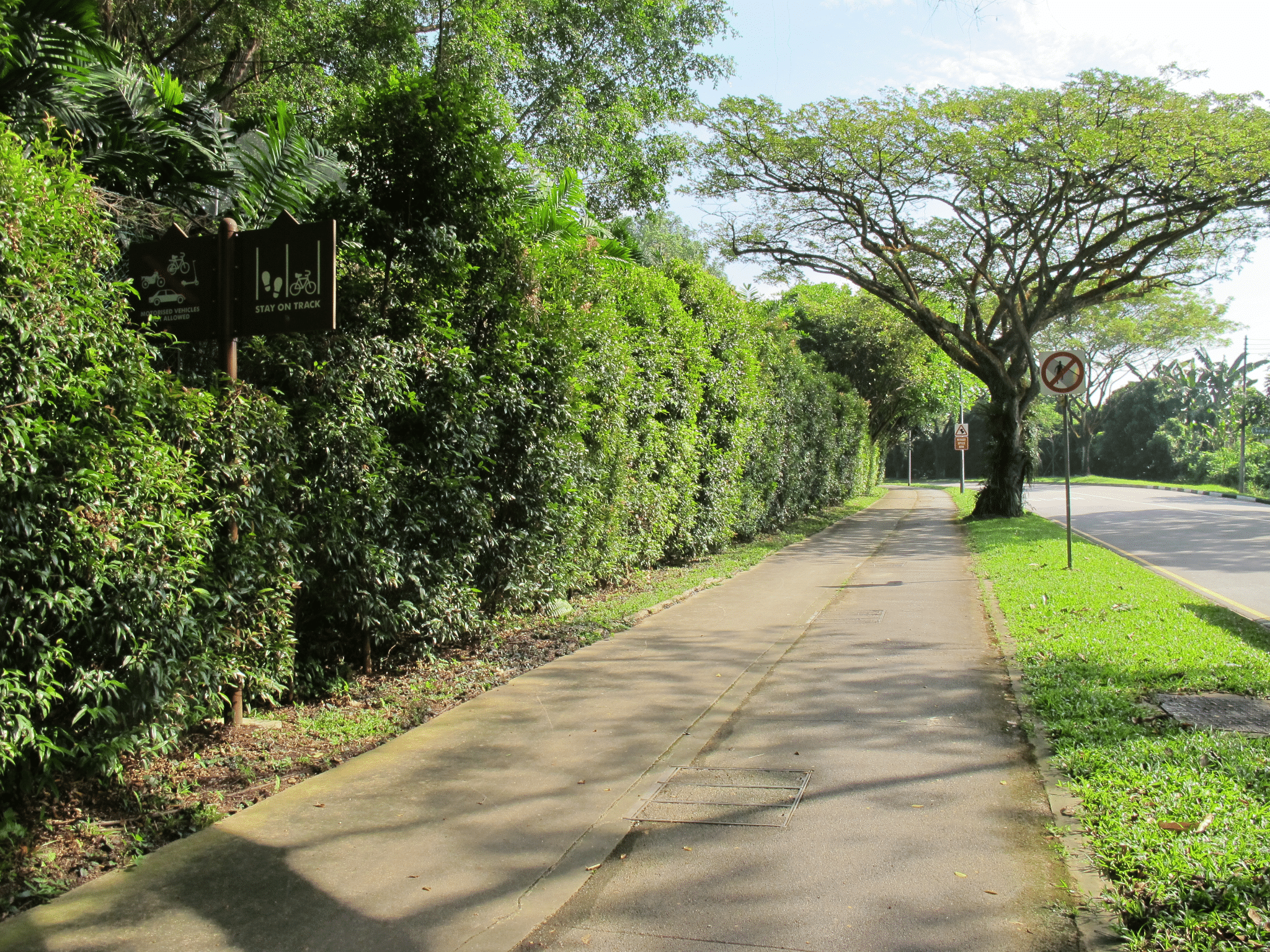 You can also swing by the waterfront for some calming sea breeze, embarking on an idyllic stroll down the pier dotted with fishermen as you take stock of the little joys in life. Sometimes the Northside truly feels like an out-of-Singapore land of its own!
Canberra Economic Growth
As a property portal, how can we not discussed the property value in Canberra. Here, we tried to discern whether property value in Canberra had experienced an uplift over time by comparing average PSF prices of 99-year leasehold condos within Canberra against neighbouring Yishun and out-of-central districts* of Singapore. To make our comparison accurate and representative, we limited the condos to those with the TOP year of 2012 or later (the year when Canberra Residences was launched).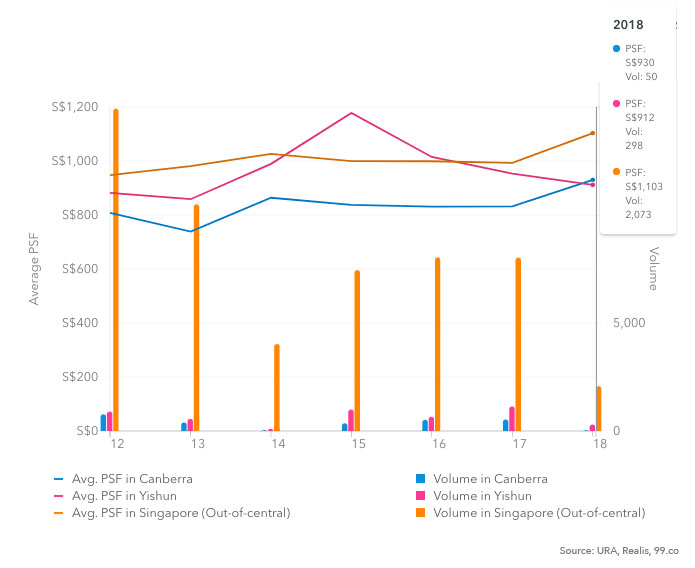 According to the chart, we can deduce two key observations about Canberra:
Canberra's average PSF price movements have been largely in sync with out-of-central districts in Singapore in the time period of comparison.
Yishun held a 9.16% price premium over Canberra in 2012, now wiped out as Canberra overtook Yishun in terms of average PSF price in the first half of 2018.
Canberra Property Fairytale
There's the ubiquitous (and highly profitable) Pinnacle @ Duxton BTO project and also the rise of Bukit Panjang from a sleepy suburb to the regional hub in the past decade. Canberra could be the next on the list. With the new Canberra MRT station, as well as upcoming amenities and housing projects in development, Canberra looks to be a town that will see rapidly rising property values. And rapidly rising property values are evidenced by recent launches – Parc Canberra & Provence Residence. 
Parc Canberra
At the time of writing (1 Jun 2021), there are only 7 units left in Parc Canberra since its launch in Feb 2020. With 496 units sold in a short time span of slightly over 2 years with the ongoing pandemics, this attests to the attractiveness of Canberra by homeowners. As a side note, if you are keen on the last 7 units left in Parc Canberra, you may reach out to our team at 61001344 to find out about their availability. 
Provence Residence
Provence Residence further cemented the rising trend of property value in Canberra by the strong takeup rate during its launch day. On its launch day on 12 May 2021, 53% of the units launched were sold, as of writing (1 Jun 2021), there are slightly over 184 units left. Again, you may contact our team at +65 6100 1344 for the available units at Provence Residence or check out our popular list "List of Executive Condo with Unsold Units" for a summary of Executive Condos and their availability.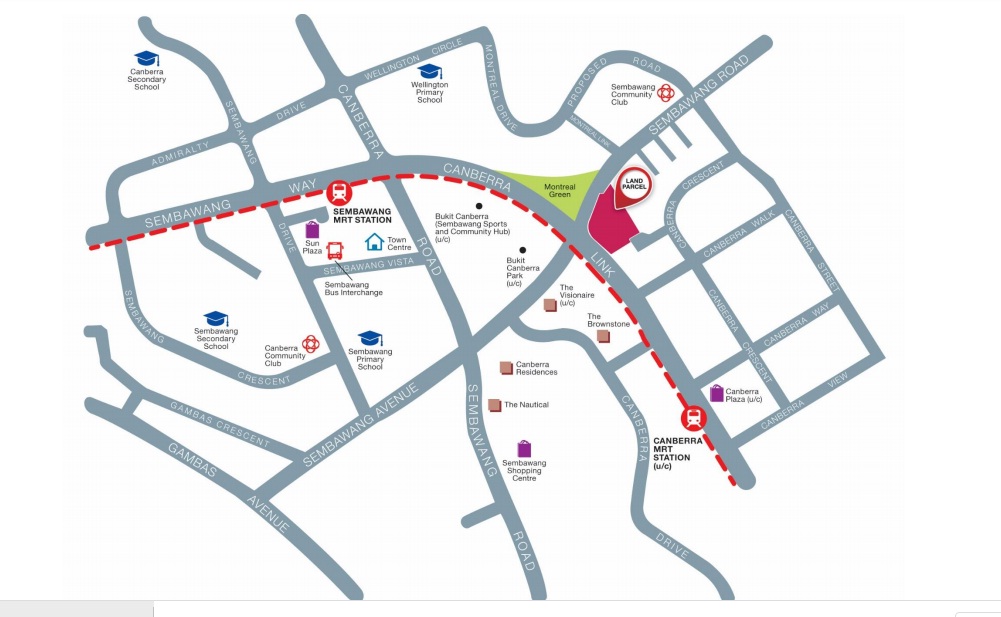 Canberra New Property Launches
Miss out on getting your choice unit at Parc Canberra or Provence Residence? Or not eligible to purchase an executive condominium? Looking for a good entry price property with potential for capital gain in future?
Check out the below upcoming 2 new Private Condominium launches coming soon in 2nd half of 2021. 
The Watergardens At Canberra
The Watergardens at Canberra is the larger of the 2 Canberra Drive Government Land Sales sites. It was secured by United Venture Development (a joint venture between UOL Group, United Industrial Corporation and Kheng Leong Company UOL). United Venture Development won the site with a bid of $270.2 million or $650 PSF PPR, at this price, the industry is expecting the selling price to be around $1,250 to $1,300 PSF. At the range of S$1,250 to S$1,300 PSF, The Watergardens at Canberra is probably one of the most attractive priced new private condominium developments in the entirety of Singapore. As the larger land parcel at a total site area of 27,566.1 SQM, The Watergardens at Canberra presents to the developer an array of options to develop exciting new homes and facilities for its residents in land-scarce Singapore. So, if you are looking at Canberra for a condo with amazing facilities, you may check out their page by visiting https://watergardens.officialpage.co/.
The Watergardens At Canberra
The Commodore is a smaller plot compared to The Watergarden at Canberra, but it is closer to the Canberra MRT station and was successfully bid at a lower-priced by JBE Holdings at $644 per sq ft per plot ratio (PSF PPR). So, for those looking more closely-knitted community, The Commodore would make a better choice.  JBE itself is also a developer with an impressive portfolio under its belt – it has developed the luxury The Luxe at prime district 9, the first EC with a sky garden, The SkyPark Residences and more. Interested? More information on The Commodore is available at https://thecommodore.officialpage.co/.
Should You Live In Canberra?
We see Canberra as a dark horse of sorts. The upcoming developments in the area offer plenty of promise for homebuyers. If you want to live somewhere that isn't overcrowded and won't break the bank, it's worth giving properties here some serious thought.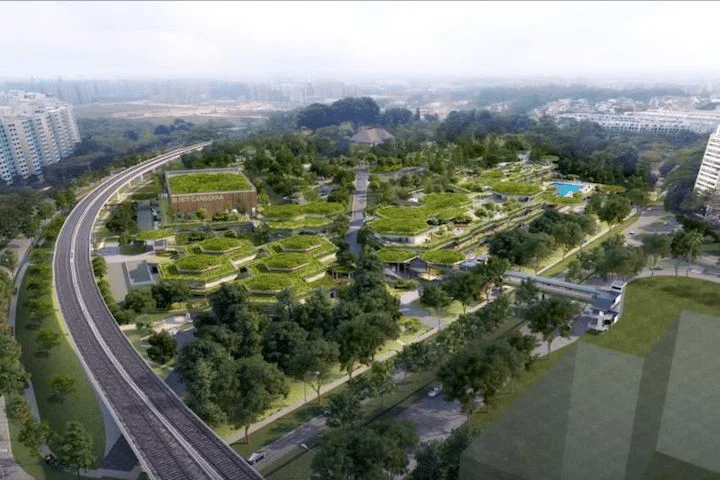 One thing for sure: you'll have lots to look forward to!
Enjoy what you have been reading? Join our mailing to get valuable insights delivered to your inbox today.