In HDB resale properties, August brought modest price increments and a jaw-dropping milestone. As the market continued its gradual ascent, the overall growth momentum appeared to taper off slightly. However, the standout feature of August was the sale of a record-breaking 54 HDB flats, each fetching a price tag of at least $1 million. Let's dive into the nuances of this market scenario.
Resale Volume on the Rise
Despite the mid-month arrival of the Hungry Ghost festival, resale volumes saw an uptick in August. Transaction data reveals that 2,474 HDB flats changed hands during the month, a 20.5% increase from July's 2,053 units. Compared to August 2022, resale volumes surged 7.1% from the previous year's 2,309 resale flats.
The notable increase in sales can be attributed to several factors. Buyers are reentering the market, buoyed by the stabilizing prices after a period of fluctuation. Simultaneously, some sellers are more willing to negotiate on asking prices in response to the cautious market sentiment; for those receiving keys to their new homes and hoping to qualify for additional buyer's stamp duty remission, selling their existing flats becomes attractive.
Steady Price Growth
Price growth in the HDB resale market has taken on a more measured pace over recent months. The average resale price in August increased by just 0.1% month-on-month, reaching $577,475 from July's $577,166 (see chart 1). This growth rate is marginally slower than the 0.5% observed in July and the 0.7% increase in June. However, when compared on a year-on-year basis, the average resale price has risen by approximately 5% since August 2022.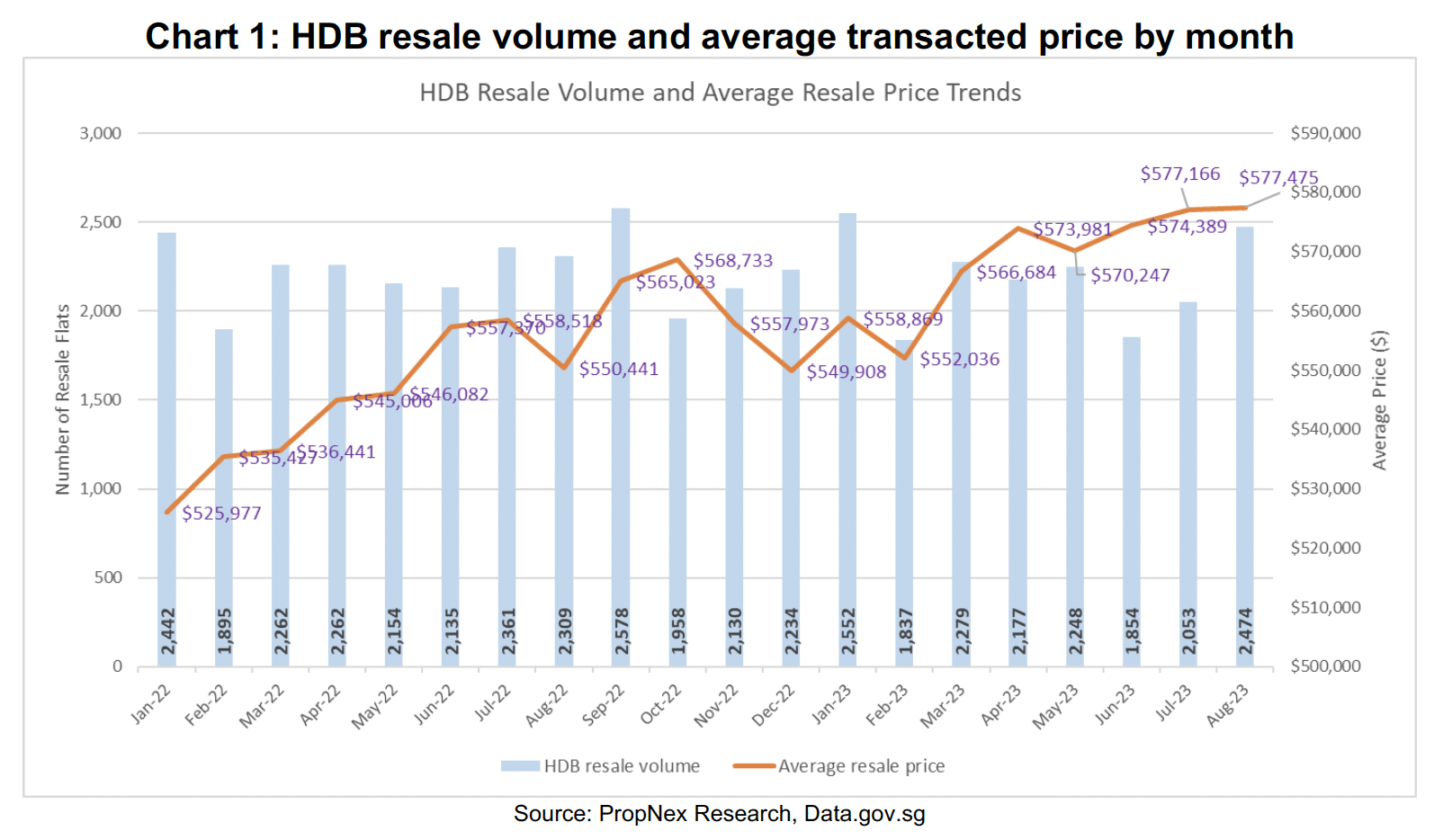 Delving deeper into the market segments, we find varying price dynamics. In August, the overall average transacted prices for 4-room, 5-room, and executive flats recorded month-on-month increases of 2.6%, 0.8%, and 1.5%, respectively. In contrast, the average resale price of 3-room flats experienced a minor dip of 0.5%, settling at $411,538 (see table 1).

Town and Flat-Type Analysis
A closer examination of the data, categorized by towns and flat types, reveals a consistent trend. Most flat types witnessed month-on-month price increases, except 3-room resale flats and 5-room flats in non-mature estates.
Mature towns exhibited more pronounced growth, with average resale prices surging by 3.2%, 4.4%, and 4.3% for 4-room, 5-room, and executive flats, respectively (see table 2). These numbers underscore the desirability of established neighbourhoods.

Mature Towns Take the Lead
In August 2023, mature towns occupied the top three spots in our ranking of average transacted resale prices per square foot ($PSF) for various flat types. The accolades went to Central Area, which claimed the highest average PSF price for 4-room flats at $1,071 PSF. For 5-room and executive flats, Central Area and Bukit Timah secured the top positions with average unit resale prices of $1,008 PSF and $755 PSF, respectively.
Central Area's price prominence was driven primarily by eight "million-dollar" flats, each commanding unit prices exceeding $1,000 PSF. In a standout example, a 94-sqm 4-room resale flat at Pinnacle @ Duxton was resold for $1.41 million in August, setting a new record unit price for HDB resale flats at approximately $1,394 PSF.
Diverse Price Ranges
The HDB resale market continues to cater to a wide range of buyers. In August, approximately 36.4% of resale flats were priced below $500,000, a slight increase from July's 35%. Meanwhile, around 61.4% of flats changed hands within the $500,000 to just under $1 million price bracket, down from the previous month's 63.4%. Notably, the proportion of resale flats selling for at least $1 million stood at about 2.2% of August's sales, up from 1.6% in July 2023 (see chart 2).
The Million-Dollar Club
A staggering 54 resale flats achieved the million-dollar milestone in August, marking a remarkable 69% increase from the 32 units sold in July. This sets a new monthly record high. In the first eight months of 2023, the market witnessed the sale of 294 "million-dollar" HDB resale flats, reflecting a substantial 26.7% surge compared to the same period in 2022, when 232 such flats were transacted. The figure is now just 75 units shy of the record sales of 369 "million-dollar" resale flats in 2022. With an average of about 37 such transactions per month this year, breaking that record by November 2023 seems plausible.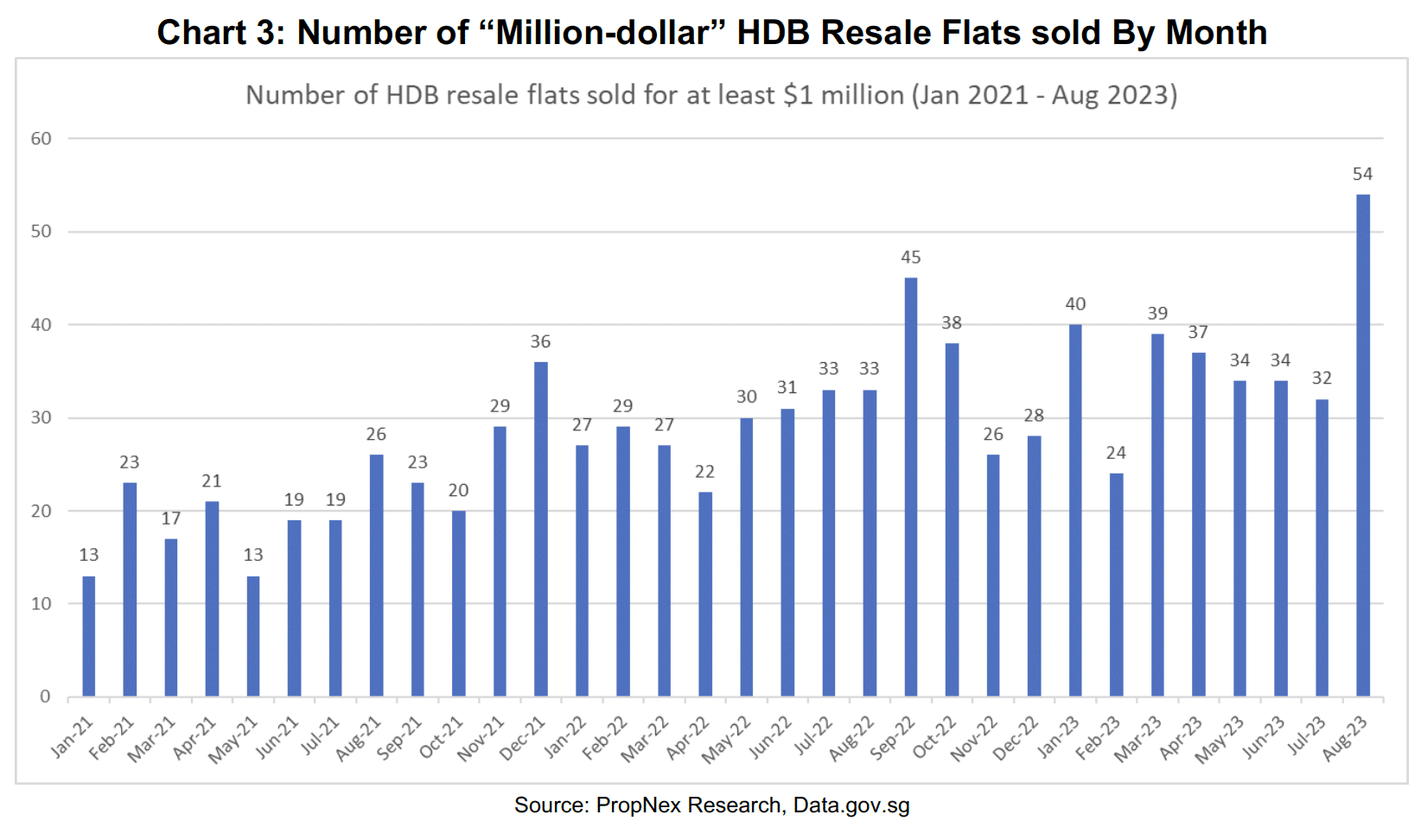 Diverse Locations
These "million-dollar" transactions were not confined to a specific geography. In August, four of these transactions occurred in non-mature towns, with two each in Woodlands and Hougang. The remaining units were scattered across 13 mature estates, including Bukit Merah, Central Area, Kallang Whampoa, Ang Mo Kio, Queenstown, Toa Payoh, Bukit Timah, Clementi, Marine Parade, Bishan, Tampines, Serangoon, and Geylang.
The Pinnacle of Prices
August's priciest HDB resale flat was a 5-room unit at Pinnacle @ Duxton, commanding $1.48 million. Spanning 107 sqm (1,152 sq ft) and situated between the 28th and 30th storeys, this property offered breathtaking views. The second-highest transaction occurred in Lorong 1A Toa Payoh, where a 114-sqm (1,227 sq ft) 5-room DBSS flat, located between the 40th and 42nd floors, was resold for $1.46 million (see table 4).
However, the real showstopper was the third most expensive flat, which broke records and shattered them. A 94-sqm (1,012 sq ft) 4-room flat at Pinnacle @ Duxton in Cantonment Road was sold for $1.41 million, achieving a record unit price of approximately $1,394 PSF.

The Road Ahead
With the increasing number of "million-dollar" flats in diverse locations, there is a compelling case for HDB to reevaluate the categorization of new flats. Starting from the second half of 2024, new flats will be classified under the Standard, Plus, and Prime framework. This approach aims to align flat values with their specific location attributes, assuring fairness and affordability for Plus and Prime flats despite stricter regulations and subsidy clawbacks.
As a result of this reclassification, buyers seeking prime locations but unwilling to commit to the longer 10-year minimum occupation period and stricter resale conditions may turn their attention toward resale HDB flats, which are not subject to the new framework. This shift could stimulate continued interest in well-located resale HDB flats, including those close to the future Plus/Prime flats.
In conclusion, as the HDB resale market continues evolving with its blend of modest price growth and record-breaking million-dollar transactions, it presents a dynamic landscape filled with opportunities for buyers and sellers. If you're looking for expert guidance in navigating this market or wish to stay updated with the latest real estate insights, we invite you to reach out to our team for a professional consultation. Alternatively, you can sign up for our mailing list to receive timely updates and valuable information directly in your inbox. We are here to assist you in making informed decisions and keeping you informed about the ever-changing real estate trends.