New private home sales slump to 6-month low amidst the dearth of new launches and June holidays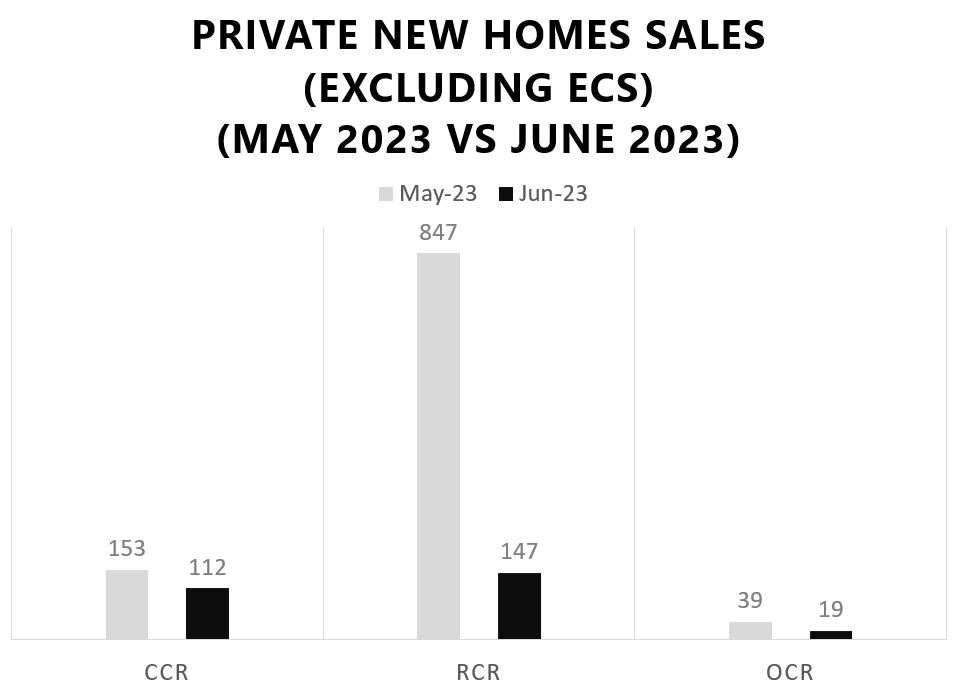 In June 2023, developers experienced a decline in sales, reaching a 6-month low due to the absence of new project launches. The total sales of new private homes (excluding executive condos) amounted to 278 units, witnessing a significant 73.2% drop from the robust sales of 1,039 units in May and a 43% decrease compared to the 488 units sold in June 2022.
The sluggish sales were primarily attributed to the limited number of new projects introduced to the market during June. Developers refrained from launching new projects during this period as sales activities tend to slow down due to the June school holidays when families often go on vacations. The lack of major project launches in June resulted in a sharp month-on-month decline in sales compared to May, where the demand was boosted by the launch of two projects, namely, The Continuum and The Reserve Residences.
For the third consecutive month, the Rest of Central Region (RCR) led in new home sales, with 147 units sold in June. However, despite leading in sales, the RCR transactions saw a significant 82.6% month-on-month decline from the 847 units transacted in May. The healthy sales at The Reserve Residences and The Continuum played a crucial role in boosting RCR sales in the previous month. Additionally, the launch of Tembusu Grand and Blossoms by the Park positively impacted RCR home sales in April 2023. Notably, The Reserve Residences emerged as the top-selling RCR project in June, selling 79 units at a median price of $2,646 per square foot (psf).
In June, a boutique development named Lavender Residence, which consisted of 17 units, was launched and managed to transact eight units at a median price of $1,972 psf. Looking ahead, RCR home sales are expected to lead in transactions again in July following the launch of Grand Dunman and Pinetree Hill.
The Core Central Region (CCR) saw 112 new private homes sold, marking a 26.8% MOM decline from May's sales. Developers continued to pare down on their unsold CCR inventory. The best-selling projects included Leedon Green which sold 14 units at a median price of $2,812 psf, the Van Holland, which transacted 13 units at a median price of $2,692 psf; and The Atelier, which moved 12 units at a median price of $2,663 psf in June.
In June, new home sales in the Outside Central Region (OCR) continued to be sluggish due to the limited unsold inventory in this sub-market, resulting in fewer buying opportunities and reduced demand. OCR's new home sales experienced a decline of 51.3% compared to the previous month, marking the third consecutive monthly drop, with only 19 units sold in June. During this period, the most popular mass-market project (excluding executive condos) was Lentor Modern, which sold 5 units at a median price of $2,125 per square foot (psf).
Developers released 31 new units (excluding executive condos) for sale in June, some of which were from previously-launched projects. This number represents a sharp decrease from the 1,595 units that were put on the market in the preceding month.
As for new launches in June, the only one was the Lavender Residence, a freehold mixed-use development situated in Kallang within the Rest of Central Region (RCR). This project consisted of 17 units.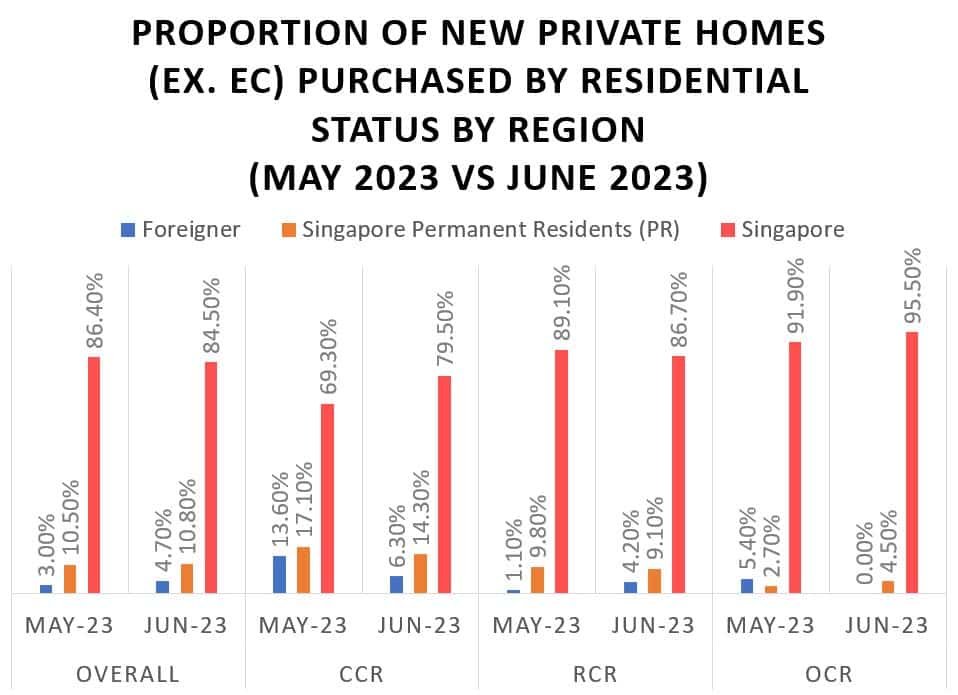 Chart 1: Proportion of new private homes (ex. EC) purchased by foreigners picked up in June 2023
Based on the URA Realis caveat data, the percentage of new non-landed and landed private home sales to foreigners (non-PRs) increased slightly to 4.7% in June 2023 compared to 3.0% in May (as shown in Chart 1). However, despite the rise as a percentage of total sales, the actual number of new private homes sold to foreigners in June experienced a significant drop, with only 13 units sold (7 in CCR and 6 in RCR) compared to 30 units in May 2023. This marks the lowest number of homes purchased by foreigners since May 2020 when pandemic measures disrupted international travel and reduced foreign investment demand.
Analyzing the regional breakdown (see Chart 1), foreign buyer participation accounted for 6.3% of CCR's monthly new home sales in June, a sharp decline from 13.6% in the previous month. In the OCR, foreign buyer participation fell to zero in June, compared to 5.4% in May. However, foreigner participation increased in the RCR, with the proportion of foreign buyers rising to 4.2% during the month, up from 1.1% in the previous month.
Despite the lackluster sales, the selling prices of new launches have remained stable, likely due to the positive impact of the latest RCR project launches in previous months. Data from caveats revealed that the median transacted price quantum of new non-landed private homes (excluding executive condos) was $2.26 million in June, an increase from $1.95 million in May. Additionally, the median transacted unit price of new non-landed private homes grew by 5.1% month-on-month to $2,686 per square foot (psf) in June, up from $2,555 psf achieved in May.
The average unit price gap between new private home sales in the CCR and RCR has further decreased from May to June to 17%, mainly due to a slight softening of average prices of new homes in CCR. On the other hand, the average unit price gap between the RCR and OCR widened to 23.6% as average selling prices in the OCR fell to $2,047 psf due to the limited number of new launches in June (as shown in Chart 2).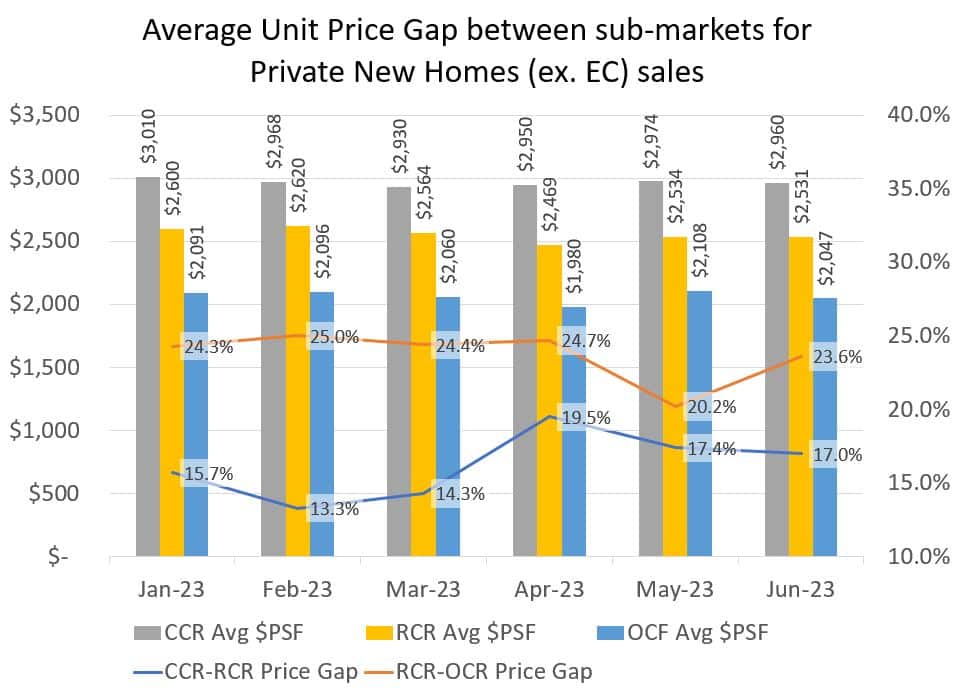 Chart 2: Average Unit Price Gap between sub-markets for Private New Homes (ex. EC) sales
Outlook
Developers' sales are primarily influenced by the supply of new launches, which can vary significantly from month to month, depending on the availability of new projects. The substantial decline in new home sales from May to June can be attributed to the lack of project launches during that month, as developers typically refrain from introducing new projects until after the June school holidays.
We expect new home sales numbers to rebound strongly in July, driven by several back-to-back launches scheduled for the month. These launches include The Myst, Lentor Hills Residences, Grand Dunman, and Pinetree Hill, collectively accounting for over 1,100 units sold during their respective launch weekends. The OCR sales are anticipated to pick up notably in July due to transactions at The Myst and Lentor Hills Residences after three months of relatively low transaction numbers caused by limited unsold supply.
Moreover, RCR sales will be supported by the recent launches of Grand Dunman and Pinetree Hill. Market observations indicate that there is still significant interest in new private homes among buyers, and demand remains relatively resilient. The sales performance from the July launches has been encouraging, even with more new projects lined up for August and beyond, such as Lake Garden Residences, Altura EC, TMW Maxwell, Orchard Sophia, and The Arden. With developers adopting sensitive pricing strategies amidst cautious sentiment, discerning buyers, and continued high-interest rates, we expect the new home sales market to remain lively with a steady pipeline of new launches.
We predict that developers' sales will rebound strongly in July, driven by the healthy demand for the four launches during the month. This sales momentum is likely to continue into August, especially in the EC segment with the introduction of Altura EC in Bukit Batok. As the only new EC project hitting the market in 2023 and the first one in the area in 22 years, Altura EC is expected to be well-received by eligible EC buyers. With no other new EC projects in the Bukit Batok planning area since May 2001, when The Dew was launched, there is likely to be pent-up demand for Altura EC among first-time buyers and HDB upgraders when it opens for booking.
Table 1: Top 10 Best-Selling Private Residential Projects (Ex. ECs) in June 2023
Median Price in June 2023 ($PSF)
Pullman Residences Newton
One Holland Village Residences
Before you leave, we welcome you to explore our extensive library of new project launches with comprehensive information like floor plans, prices, and regular updates. But that's just the beginning! We empathize with the challenges of finding the perfect property, which is why our dedicated team of real estate consultants is ready to support you every step of the way. They'll expertly match you with projects that align perfectly with your unique requirements, ensuring a smooth and stress-free real estate journey. Don't let your dream property slip away – start exploring new projects now by clicking the button below!